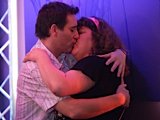 At R&R, Dawn tells Shirley that she shouldn't be meddling in Heather's love life. Heather, meanwhile, is becoming more and more tipsy as she knocks back the free champagne. Giving Minty the brush-off, Heather makes a move on a young, attractive guy called Eddie - the regulars can't believe what they're seeing. The pair begin to kiss and all Dawn can think about is how Shirley has paid someone to make a laughing stock of her supposed best friend.
As Heather's about to leave with Eddie, Dawn reveals that Shirley hired an escort for her for the night. Heather's candescent with rage when she realises that everyone's been laughing at her. As Shirley tries to apologise, Heather reveals that she was the only one she trusted and that trust has now gone. Later, Shirley bumps into a guy in R&R who asks for his £70 fee, even though he didn't meet with Heather. Shirley feels awful - Eddie was the real deal for Heather and she's ruined her chances. In a toilet cubicle, Heather sits and reflects on her life but is distracted when a hand appears under the cubicle with her lucky foil yoghurt lid…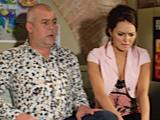 Meanwhile, Darren clicks the voicemail on and listens to Garry's message. Both Minty and Dawn are naturally still worried about their friend's whereabouts, while Darren deletes the message. Later that night, the police arrive at R&R looking for Minty. They inform him and Dawn that they've found Garry's car abandoned in a remote location near the cliffs at Dover with all of his possessions inside and suggest that he may have committed suicide.
Elsewhere, Dawn meets a guy called Les on the market and he asks her to attend his photoshoot later that day, which Dawn happily agrees to; Bianca takes swabs from Ricky and Tiffany so she can send off the DNA testing kit; and Callum can't believe Dawn fell for Les's story.