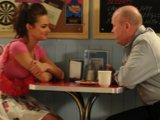 Minty's still reeling after walking in on Phil and Dawn together the previous day and is snappy towards his boss. When Phil leaves, Garry questions Minty as to why he's in such a mood and Minty insists that Phil doesn't respect them as much as he should. Garry, however, defends him, claiming that he's a decent guy. Dawn bumps into Phil at the café but she's paranoid that Garry will catch them together. Phil, however, is indifferent - they can cool things if she's uneasy. Later in the day, Manda's excited about her night out with Minty, but he's preoccupied with the knowledge of Phil and Dawn. Despite his best efforts, he's unable to find the right moment to break the devastating news to Garry.
At The Vic, Minty attempts to talk to Phil, but when he's cornered by Shirley, he loses his chance. Meanwhile, at the flat, Manda's preparing for her date with Minty and expresses to Dawn how lucky she is to have a man like Garry. When Manda leaves, Dawn's mobile rings - it's Phil. Dawn lies that Phil's called her into work, despite the fact that Garry's prepared them a romantic meal. Later, Manda suggests to Garry that he be more spontaneous with Dawn and at that moment, he grabs a rose and heads across to The Vic, much to Minty's horror. Unable to see Dawn downstairs, Garry climbs the stairs calling her name, while in the living room, Phil and Dawn scramble to get dressed...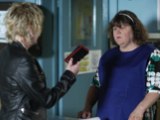 Meanwhile, Shirley's becoming more concerned about Heather's strange behaviour when she finds a packet of cigarettes in the cupboard, before declining an offer of a drinking session. Later, Heather's nearly mugged and when Patrick helps gather her belongings from the floor, he notices a letter from the hospital. Heather lies that her appointment is to do with her asthma. When Shirley stops by the Minute Mart to buy some cigarettes, Patrick suggests that she should be more cautious smoking around Heather 'in her condition'. Heading to the hospital, Shirley overhears a nurse talking about his patient who's a George Michael fan. When she follows him, she's gobsmacked to be led to the antenatal unit.
Elsewhere, Bradley's on the hunt for a new job and asks Jack if he needs any help with the business; Jack gives Roxy a letter for Ronnie to sign; Janine tells Amira that she has to be out of the flat by the end of the day; Roxy tells Peggy that Ronnie's found a new man; Amira asks Syed about the room at her flat; Patrick asks Peggy if she and their friends are game for a night out; Jack's adamant that Roxy's trying it on with him again; Syd asks Bradley if he'll move in with her; Roxy insists to Jack that she and Amy come as a package; and Amira turns up on Syd's doorstep after being kicked out by Janine and Bradley lets her have the room instead.