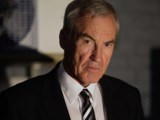 Archie proposes a new business venture to Billy, speculating that he's looking at opening a new bar and will need an expert to help him run it. Excited by the potentially life-changing venture, Billy begins planning. Later, Archie tells Janine about Peggy's financial woes and suggests that it's the perfect time to burn down The Vic and reap their rewards - and it's no secret that the Mitchells are struggling as it was broadcast to everyone in The Vic. He then hands her Billy's wallet and insists that he plant it to frame Billy. As Archie makes his way to the tube station, he receives a call from Janine who's packed her arson kit. Rushing to Janine's flat, he's frustrated to hear that she's having second thoughts about their plan.
Furious about a potential missed opportunity, Archie decides to take matters into his own hands and heads over to The Vic. Having dropped the wallet in the barrel store, Archie strikes a match, completely unaware that Peggy's inside…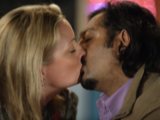 Meanwhile, Jane's delighted to receive an adoption application through the post. She leaves it on the table and when Masood wanders into the Beales', he goes to write a note for Jane. He lifts an envelope off the table, revealing the application to adopt. At that moment, Jane wanders down the stairs and Masood admits that he's seen the paperwork. The pair have a heart-to-heart and while Jane voices her concern that her desires will be fruitless, Masood urges her to tell Ian exactly how she feels and explain how much having a baby would mean to her. Later, Jane tells Ian that she's desperate for a child, but he snaps and declares that he has enough parental responsibility and if she wants children, she should find another man.
Jane's devastated and when Masood turns up at the café, they talk about Ian's revelation and before they know what's happening, Jane's leaning in for a kiss…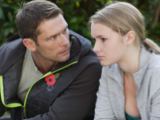 Elsewhere, Peggy admits to Ronnie and Roxy that The Vic's running at a loss; Christian confronts Lucy over the blackmailing; Lucy finds Peggy's accounts in the café; Lucy tries to thank Jay for helping her after the attack by serving him a fry-up; Ronnie and Roxy reassure Peggy that they'll help to turn The Vic into a profitable business again; having looked over Peggy's accounts, Ian offers her a loan, before blurting out to the locals - including Achie - that the pub's running at a loss; and Lucy protests that she was blackmailing Syed for Christian's sake.
Also, Jay confides in Billy that he's done something stupid, but doesn't reveal the identity of the person he attacked; Lucas tries to make amends with Denise; Christian blurts out the identity of the blackmailer at the bonfire celebrations; Owen warns Denise that Lucas is bad news but Denise throws him out; Jay turns up at the Beales' with a box of chocolates for Lucy but walks out when she asks if he fancies her; and Syed follows Lucy back to her house…