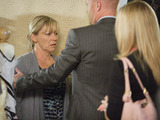 It's the morning after Billie's birthday party and Carol wakes up to the sounds of her family rushing around. Bianca checks on Billie, who seems to be still asleep on the sofa in the lounge. The room is chaotic, with empty bottles, cans and crisp packets everywhere. The mess irritates Carol, but she does not wake Billie and heads over to the bookies. Later, Bianca wants to wake Billie so she enters the darkened lounge, calling him by name. He doesn't answer and when she tickles him and looks closer, Billie's lifeless eyes are staring back at her. Shortly after, Carol picks up the phone at the bookies and Bianca breaks the news that Billie is dead, at which point Carol rushes back home.
Back at the house, everyone is shocked and in tears. A doctor is with Billie and confirms that he is dead, causing Carol to go into deep shock. When two police officers arrive, Carol sends the kids with Bianca and Pat upstairs. They ask Carol, Whitney and Ricky about last night, wanting to know if booze and drugs were involved. Ricky tells them that he heard Billie snoring at around 2am when he went down to get a glass of water.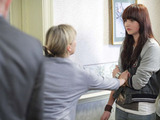 Later, while trying to fill out a form about Billie, Carol asks Bianca why she brought Billie home and tells her that she should not have done so. The doorbell rings again and it's Max with Tanya, Lauren and Abi. Carol shouts at Lauren, who gets nervous and starts laughing. Carol is outraged and they leave again. The doctor suggests that Carol should lie down but the doorbell rings again. It's Alfie bringing Carol her keys from the bookies. When he leaves, the undertakers arrive, carrying a stretcher and a body bag.
Before they take Billie away, Carol goes to the lounge to say goodbye to her dead boy. When she sees his lifeless face, she almost bursts into tears but cannot cry even when she tries to force herself. Will Carol be able to properly grieve for her son?