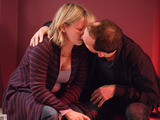 It's a busy night at R&R as Kat, Kim, Stacey and Jean are having a girls' night out at the venue, while Ryan, Janine and Carol are also in attendance. When Billy pays a visit to the club, he joins Carol and the pair have a few drinks together. They talk about their pitiful lives, and all of a sudden, Billy leans in and kisses Carol. She is surprised and pulls back, but Billy tries again. Carol leaves before Billy goes on to upset Jean with his rude behaviour. Stacey steps in to help Jean, but Janine stands up for Billy, leading to the two girls arguing before Christian steps in to stop the row escalating.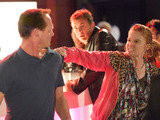 Soon afterwards, Bianca arrives fuming and looking for Billy because of his behaviour towards Carol. Stacey cannot stand Billy's arrogant behaviour any longer so punches him in the face. Janine steps forward to help Billy and a fight breaks out. Billy is in the middle of the crowd but in his own world of pain, pushing someone away, who was bumping into him. When a hand grabs him from behind, he turns around and throws a punch, but he's stunned when he realises it's a police officer…
Meanwhile, having called Christian into work at R&R, Roxy is disappointed that Syed has come along with him. Wanting to have fun with her playmate, Roxy tries to get Christian to stay at the club with her. She gets him and Syed a drink, but purposely puts some vodka into Syed's glass. Syed immediately realises and Christian is shocked that Roxy would do something like that. Angry, Christian tells her that she needs to get used to him being with Syed.
Elsewhere, Alfie tries to fit a TV in the drinking den, but it crashes to the floor and all his customers leave; having left the club early, Ryan ends up having to look after baby Lily and face up to his responsibilities as a father; Kim enjoys her night at R&R and kisses a handsome man in a corner of the club; and Ricky upsets Carol by revealing that Whitney has moved on from Billie.