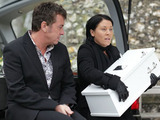 It's the day of the funeral, and it's clear that Kat is struggling to cope as she hides away in bed and seems unable to face the sad event ahead. Before the ceremony, Alfie pays a visit to the baby's resting place and, once he returns, he tries to convince Kat to leave her bed. Meanwhile, over at Jack and Ronnie's, Jack wants his wife to come for a walk with the baby, but he's alarmed to discover that she has locked herself in the bedroom. After watching the funeral party gather on the Square, Ronnie starts putting on the black dress that she picked out yesterday. Soon afterwards, Kat leaves The Vic and is supported by her friends and family as her difficult day begins in earnest. Ronnie also leaves her own house and sets off on a journey alone.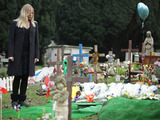 Once Kat arrives at the church, she has another difficult moment and struggles to pluck up the courage to step inside, but she eventually does so following some more consolation from Alfie. After the funeral service is over, everyone heads over to the cemetery for the burial, where Ronnie watches from a distance. Kat completely breaks down at the graveside as the reality of the final goodbye hits home, while Ronnie also looks distraught as she watches the scene from afar.
Later, when Ronnie returns home to Kat's baby, it seems that she's had a revelation. She takes the child up in her arms and heads over to The Vic, despite some protestations from Jack, who demands to know what's going on. Ronnie enters the pub - but what will she do next?
Meanwhile, Carol tells Connor that they need to end their relationship immediately as Tiffany now knows about them. Tiffany remains in a bad mood, but Carol doesn't let Bianca know the reason why her daughter is behaving so strangely.