Soaps Spoiler
Ronnie says too much to Michael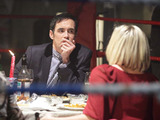 Aired Monday, Mar 28 2011 at 20:00 BST on BBC One
Kat and Alfie's marriage is on the rocks and when Michael and Roxy try to find out what's going on, Alfie remarks that it's all over between him and Kat, before adding that what she and Michael did is one of the reasons why. Roxy is confused until Michael tells her that he was Tommy's father. Soon afterwards, Roxy and Michael hatch a plan to reunite the pair by arranging a secret supper for six at the boxing club, attended by Kat, Alfie, Roxy, Michael, Jack and Ronnie. Michael informs Kat about the invitation but getting Alfie there proves more difficult because he's heading to the tube station, ready to leave the Square. Fortunately, Michael manages to get there in time and convinces Alfie to come to the boxing ring. Jack, meanwhile, is frustrated as Ronnie is refusing to come to the dinner. He firmly tells Ronnie that she of all people should know what Kat and Alfie are going through and he wants her to be there.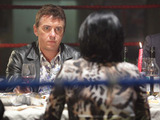 Later, all six of them attend the gym as planned, but the atmosphere is tense. As Michael tries his best to ensure that Kat and Alfie get back on good terms, there's some encouraging signs as they start sparring like the old times. However, Kat soon says that she needs to be back at The Vic. Alfie follows her and the pair get close on the Square, sharing a tender kiss. Back in the club, though, it's all become too much for Ronnie and she rushes off. Towards the end of the night, when Michael finds Ronnie alone in the gym, he asks her why she has such a problem with him. However, Ronnie tells Michael that he can never know the reason why - before rushing out, knowing that she's said too much…
Meanwhile, Syed and Tanya plot to put Roxy out of business so they can start up their own as a replacement. However, Christian walks in on the pair's conversation and wonders what's going on. Not wanting to be dishonest to his partner, Syed hands him some paperwork which explains all, before walking out. Later, Christian finds Syed and Tanya in the café and Syed tells Tanya that Christian knows about their scheme. An unhappy Christian asks how Roxy will feel when she finds out what they're up to, but Syed says bluntly that he doesn't expect him to tell her as he's his boyfriend and that outranks the position of best friend. Christian is left speechless by Syed's behaviour.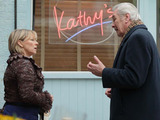 Elsewhere, Edward tells Carol how hurt Dot was over not being informed about Whitney, prompting Carol and Max to apologise to Dot; Ian asks Fatboy whether he fancies Mercy; and Dot is horrified when Carol describes Edward as her "fancy man", so she tells Edward that from now on he can provide the meals for Jim but she doesn't want him around for anything else.
Get the Inside Soap magazine on your iPhone or iPad