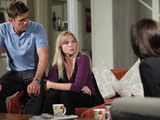 Michael's strange behaviour continues as he goes to sleep on the bed beside Ronnie. Jack is flabbergasted when he walks in on the pair, but Ronnie says that Michael must have been sleepwalking again and he gets away with it. In the morning, Ronnie and Jack meet QC Catherine to discuss the case and Kat watches them from The Vic, displeased to see the trio looking so happy. Later, Jack tells Michael that he and Ronnie will move away if she avoids a jail term. Michael encourages him to say goodbye to Tommy if he plans to leave, and offers to help out by taking Ronnie out for lunch at the Argee Bhajee - leaving the path clear for him to see the baby without his wife knowing. When Jack enters the pub, Kat asks him who Catherine was and he lies, saying that she's an old friend. Feeling guilty, Kat says that he's free to see the baby whenever he wants.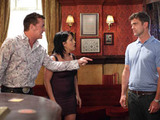 Later, Alfie spots that Ronnie and Michael have been at the Argee Bhajee together and accuses him of being a traitor. However, Michael privately tells Alfie that he's just been fishing for information and informs him that Ronnie has a new legal representative who hasn't lost a case in three years. Michael then heads back to Ronnie and pretends that he's just been told Jack is visiting the baby, leaving her stunned. At the same time, Alfie heads back to the pub and punches Jack when he sees him with Kat and the baby. Seeing the trouble he's caused, Michael is pleased at how well he's played the puppet-master…
Meanwhile, Janine's landlord threatens to make her homeless unless she pays her rent today. Desperate, she turns to Ian for help and he agrees to give her a job scrubbing floors at the chip shop. Pat and Ricky don't waste much time before heading over to gloat, and Ian humiliates Janine in front of the pair by making her declare that he owns her before he pays her any money. When Janine returns home with an advance pay packet, she's relieved to have escaped the threat of eviction. However, her landlord snatches the money and declares that he's kicking her out anyway. Janine is crushed as she's now officially homeless.
Elsewhere, Jodie and Darren have a catch-up with Poppy at the café. When Tyler enters, he tries to chat up Jodie even though Darren is there. Spotting a new target for his attentions, Tyler tries to woo Whitney but she punches him. It doesn't deter Tyler, though, as he seems smitten!