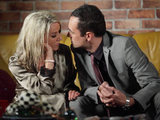 Carol has thrown Vanessa out of Max's house, but a sympathetic Eddie rushes over to help Vanessa to her feet. Eddie, Michael and Jodie then take Vanessa over to the B&B, where she sobs over the breakdown of her relationship. Later, Carol tries to apologise to Eddie over treating Vanessa too harshly, but he ignores her. Not long afterwards, though, Carol stands up to Eddie and their flirtation resumes. As the day continues, Vanessa heads off to find Eddie and when she catches up with Michael at the shop, she tells him that she wanted to bid farewell to his "lovely dad" before leaving the Square. However, Michael rants that Eddie is a liar and a cheat like all the others, adding that Eddie destroyed his mother. Michael then offers Vanessa a wad of cash to break Eddie's heart.
At the same time, Lauren annoys Tanya by flaunting the fact that Ryan has been in her room. Rainie also causes a stir by drunkenly painting 'Welcome home Janine' on the living room wall, while Max texts Abi to explain that he's fine but needs some space. Tanya also has her health to worry about and when she visits Yusef at the surgery, he explains that the hospital will want to perform a colposopy and a biopsy as soon as possible. Amid growing tension at home, Tanya books the hospital appointment in secret.
Meanwhile, Ian is busy juggling his three girlfriends Cheryl, Fiona and Rebecca - although it's proving difficult to keep track of them all. Ian also receives a visit from Darren, who is determined to fund his wedding and find a place for him and Jodie to live. Darren asks Ian whether he can rent his flat, and the Walford businessman agrees - all in the aim of impressing Rebecca with his kind gesture. Later, Ian and Rebecca clear the room out for Darren, and Ian agrees to give him more time when he doesn't have all of the rent money yet. Rebecca continues to be impressed by Ian's 'kind nature'.
Elsewhere, Lee approaches Whitney again and suggests that they may have got off on the wrong foot. Finally giving in, Whitney gives him her phone number.