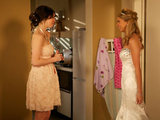 It's the day of the wedding and despite her knowledge that Darren has cheated on her, Jodie is adamant that the ceremony will go ahead and gets ready at the flat with Poppy. When Vanessa hears what Darren has done, she's shocked to learn that Jodie has already forgiven him. Vanessa soon confronts Darren - expressing her disappointment that he's just like all the others, leaving Darren to question whether he really deserves Jodie. Later, just as he's about to leave for the wedding, Darren puts a stop to everything and rushes towards Jodie on Bridge Street. He tells her that he can't go through with the wedding and a stunned Jodie runs off.
Later, Darren hides out with Heather, who tries to persuade him that there's still a way for the wedding to go ahead. Despite Heather's encouragement, Darren is downcast and he says that the money he saved for the reception will all go to George. When Darren catches up with Tamwar later, he tells his friend that he's decided to leave Albert Square. Before Darren goes, he apologises to Jodie - saying that he hates the man he's turned into. Jodie considers running after his car as he leaves, but soon realises that her relationship with Darren is over.
Meanwhile, scheming Yusef hands over a sherwani brochure to Christian, saying that he found it. As Christian flicks through the magazine with Syed, a scrap of paper falls out - showing Zainab's shopping list and Amira's phone number. Syed calls the number but is disappointed when Qadim answers rather than Amira, saying that he doesn't know where his daughter is. Later, Syed confronts Zainab, who is confused as she remembers throwing the number away. Syed is furious that his mother has been withholding information from him.
Elsewhere, Abi, Ben and Lola terrorise Grace all day by playing practical jokes and ruining her gardens; Faith receives a slap from Grace as punishment for throwing a wild party last night; while Tanya snaps when Lauren accuses her of sleeping around - revealing that she is sick.