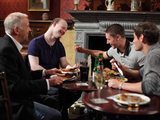 It's the day of Craig's visit to Albert Square, but the atmosphere is tense between Michael and Vanessa. Aware that collecting toy frogs is one of Craig's hobbies, Michael suggests that a frog treasure hunt would be a fun way for the family to break the ice. Eddie agrees and suggests that Michael and Vanessa should work together to organise it. Later, Craig arrives as planned and the day goes well as he enjoys the company of his family and has fun with the treasure hunt.
As the day continues, though, things take a turn for the worse when Craig overhears Michael ordering Vanessa to end her relationship with Eddie. Craig soon shares this information with Eddie, who confronts Michael over his behaviour. Michael insists that he's just trying to protect Eddie from Vanessa's gold-digging ways and, although Eddie dismisses this, it's clear that Michael's words have struck a chord. Back at home, Eddie does some detective work as he goes through Vanessa's belongings, and it's not long before he finds a bag full of £50 notes. When Vanessa returns home, she sees that someone has rummaged through her clothes and left a note containing the words "I know"…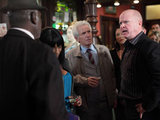 Meanwhile, Phil's woes continue as someone has sprayed graffiti across the front of the café. When Phil and Ben later see Patrick at The Vic, Phil orders Alfie to throw Patrick out. However, Alfie and Kat stand up to Phil, reminding him that they're in charge and suggesting that he should be the one to leave. Kim also gets in on the act by claiming that Phil is targeting Patrick because of his race. Furious that he isn't getting what he wants, Phil makes the shock decision to throw everyone out of the pub - including Alfie and Kat!
Elsewhere, Christian agrees to train Abi and Lola after two older boys steal Abi's phone; Mandy finds an invitation to a council event in Ian's pocket and makes it clear that she wants to go along; and Tyler angrily pushes Whitney away and later tells her that he knows about her past.