It's the day of Ben's interview with a psychiatrist, as arranged by the CPS following his recent attempt to frame Phil for Stella's death. The high-pressure day intensifies when Shirley announces that she wants both Ben and Jay to do a reading at Heather's funeral. Soon afterwards, Ben asks Phil for guidance on what he should say in his interview today. The teenager gets angry when Phil suggests that he should blame everything on Kathy's death, and he soon shocks his father by wondering if it'd be best to just confess to Heather's murder.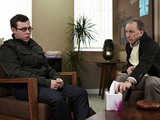 Later, as they arrive at the psychiatrist's office, Phil advises Ben to blame him for everything that led up to the stalking and framing incidents - admitting that he loves him and doesn't want to lose him. As the interview gets under way, Ben comes close to confessing his guilt over Heather, telling the psychiatrist that he was born evil. Phil isn't happy when he learns that Ben has painted himself as a psychopath in the interview. However, when they return home, there's a bigger problem to deal with as Shirley reveals that the picture frame she gave to Heather on her hen night is missing. Shirley says that she's already phoned the police as it must have been the murder weapon…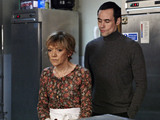 Meanwhile, Roxy looks at the books at The Vic and suggests that Alfie should sack Jean to save money. However, Jean overhears this and becomes upset. Michael comforts Jean at the café until Alfie arrives, trying to persuade her to return to the kitchen. Alfie promises that Jean can even make her infamous 'sausage surprise' if she comes back, but she's unsure until Michael promises to help her out in the kitchen. Later, Michael tells Janine that spending time with Jean has opened his eyes - he's marrying her because he loves her, and is now happy to sign the pre-nup. What is Michael up to?
Elsewhere, Roxy must beg Ray to return to work at The Vic when he walks out after she shouts at him, Derek tries to help Bianca save money on her energy bills by showing her how to use a dodgy electric key, while Lola goes for a scan at the hospital and discovers that her baby is a girl.