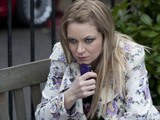 Roxy is concerned when Derek asks Alfie to carry out a job for him. Alfie vows to go ahead with it, as the slate will be wiped clean once it's over - so Roxy watches on anxiously as he gets into Derek's car followed by two burly men. When Roxy sees Derek later on, she asks about Alfie and is horrified as Derek implies that he's in trouble. Roxy tries to ring Alfie's phone, but worries further when Derek answers and says that it's the wrong number before hanging up. The situation gets stranger when two men drive Alfie's car away.
Later, Roxy spots Alfie back on the Square, and the pub boss is confused when he sees that she has been worrying about him. A smug Derek then reveals that Alfie was only doing a bit of laundry for him, which leaves Roxy livid. That evening, Alfie is stunned when Roxy explains that Derek has been playing a game with her all day, as he knows she has fallen for him. Does Alfie feel the same way?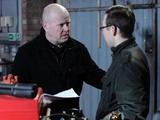 Meanwhile, Ben pretends to head off to school, but actually hangs around on the Square to intercept the arrival of the psychiatric report. However, Phil later demands to see the report and is shocked by its contents. The report claims that Ben is painfully desperate for his father's love and will do anything to earn it. Phil is left to wonder whether this means Heather's death was in some way his own fault.
Elsewhere, Bianca asks Masood to be Tiffany's maths tutor when he helps her to work out a '2 for 1' offer at the Minute Mart, Shirley makes posters about Heather's death containing her contact details in case anyone knows anything about the murder but doesn't want to go to the police, while Tanya pulls away from a passionate moment with Max - leaving him frustrated yet again.