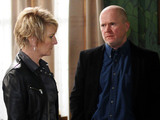 Shirley continues with her unofficial investigation into Heather's murder, deciding to offer a reward in return for information. However, Shirley's plan suffers a setback when she sees that Phil's safe is empty. When Phil learns that Shirley is also planning to put up more flyers and organise a feature in the
Walford Gazette
, he decides to put a stop to her behaviour by reporting her to DS Crisp.
Later, DS Crisp warns Shirley to stop interfering, claiming that she's putting the official investigation into jeopardy. Shirley is upset further when Phil brushes her off, claiming that he doesn't love her. Later, Shirley gets drunk at The Vic to ease her pain and ends up lying in the street. However, when Derek spots Shirley, he helps her up and invites her back to his place for a nightcap. Shirley agrees to go with him…
Meanwhile, Bianca's situation gets worse when she learns that Ricky has blown his cash and won't be able to contribute to the rent anymore. She also discovers that there isn't a job for her at the launderette, as Mr Papadopoulos won't be filling Heather's old position. Later, Janine adds to the pressure by ordering Bianca to pay her rent by Friday. When Bianca returns home, there's yet another problem as water is dripping through the living room ceiling. It turns out that Morgan and Tiffany had run a bath for Bianca and forgotten about it.
Elsewhere, Cora wonders how much longer Max and Tanya's relationship can survive and is further concerned when she sees Roxy flirting with Max, Janine offers Andrew and Shirley some money for their planned reward cash, Alfie and Roxy mark St George's Day by putting on a Punch and Judy show at The Vic, while Tanya panics when Max reveals that he's booked an appointment with the nurse to discuss their relationship moving forward.