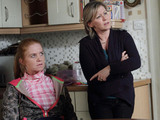 Bianca's troubles continue when she sees that Tyler and Whitney have used up all of the food she had bought for the week. Carol advises Bianca to ask Derek, Jack or Max for financial assistance, but the fiery mum is too proud to admit that she needs help. Soon afterwards, things get worse for Bianca when a meter reader arrives at the house and spots the dodgy electric key. To Bianca's relief, the meter reader decides to let her off as it's a first-time offence - but she must pay the £50 of illegal usage.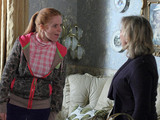 Carol is furious with Bianca for resorting to illegal measures and makes her feelings clear. A huge argument then follows between mother and daughter, with all of their resentments from over the years being brought up. Finally, Carol packs her bags and vows that she'll be moving out tomorrow morning…
Meanwhile, Derek gets upset when he sees that a birthday card he sent to Joey - his estranged son - has been returned. Later, Derek helps to fix the ceiling at Bianca's house and he enjoys feeling part of the family. However, the pleasant atmosphere doesn't last for long when Bianca lays into him about the dodgy meter key. Later, Derek orders Alfie to deliver his grandfather's watch to Joey, while he waits in the car. However, Derek is heartbroken when Alfie returns with the watch, having been turned away by Joey.
Elsewhere, Tyler is left to question whether Whitney trusts him when her insecurities come to the fore, while Ben tries to cheer up his father by driving the old banger around the Square - but Phil warns him to stop drawing attention to himself.