Ben follows Ian to the allotments as he struggles to comprehend the teenager's shocking confession. What will Ian do?
At the same time, Phil is hugely relieved when he realises that Shirley didn't hear the truth about Heather's murder - she was just angry to see him behaving so nastily towards his son. The pair then have a heart-to-heart, and the ice between them begins to melt as Phil admits that he truly loves Shirley. Phil also comforts Shirley as she cries over the death of her best friend. With their relationship back on track, Shirley heads back to the Mitchell house with Phil.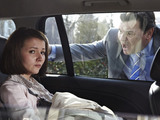 Meanwhile, everyone is still awaiting Derek's arrival at the Branning house. Cora, Jack and Dot all sing Derek's praises in front of Alice, but she can see that Tanya isn't so keen and questions her about this. Tanya decides that Alice should know the truth about her father and takes her for a private chat in the kitchen. Soon afterwards, Alice makes a sharp exit from the house after hearing all about Derek's dark past.
Having finally got rid of the police without them finding his booze stash, Derek is devastated to see Alice leaving in a cab. He tries to stop her, but it's without success.
Elsewhere, Jay appears to have had a lucky escape as his babbling hasn't aroused any suspicion, while Kim tries to avoid Ray and later leaves him devastated by admitting that while she's interested in him, she can't handle his kid.