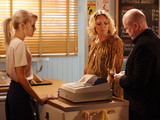 Phil is horrified when Ben informs him that Ian has disappeared. He immediately tries to take control of the situation, warning Lucy not to call the police as Jane will take Bobby away if she hears what has happened. Phil also helps Lucy out by handing money over to Janine, who is hounding the teenager to come up with the cash that her missing father owes. Phil then suggests that Lucy should hand Ian's bank details over to him, which will allow him to track where Ian is withdrawing money from.
As Jay now knows that Ian has heard the truth about Heather's murder, he becomes concerned that Phil could have killed Ian to prevent the truth from coming out. Ben tries to reassure him that this isn't the case, but it's clear that he has similar anxieties. Worried about what his dad is capable of, Ben advises Lucy to call the police. Phil is furious when he finds out about this, but fortunately for him, Lucy still doesn't want the authorities involved. Instead, she hands over Ian's accounts to Phil and asks for his help…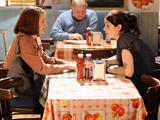 Meanwhile, under strict instructions from Cora, Lauren meets with Alice and encourages her to give Derek another chance. When Cora chips in with similar advice, Alice heads off to find her father. Derek tries his best to impress Alice and when she mentions Tanya, he immediately insists that Tanya is deluded. Not liking Derek's venomous reaction, Alice heads off - but Cora isn't giving up and passes her Derek's letter. At the same time, Derek confronts Tanya - warning that he won't let her get away with spreading poison. He adds that he's waiting for her to stick the knife in and when she does, she's dead.
Elsewhere, Andrew is hailed a hero by 'saving' Patrick when Patrick pretends to choke to distract him from an argument with Tyler, while Janine decides to give Michael a church wedding as his faith clearly means a lot to him, but she changes her mind when a reverend advises her to enrol in a 'Widow to Wife' programme.