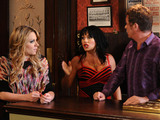 Kat is determined to get to the bottom of the chaos at the pub, as she has returned to find no stock and no cash. She starts by telling Roxy that she's no longer needed at The Vic, handing her cases over. When Roxy then tells Alfie about Jean's connection to the missing money and her allegations that Michael is responsible, Alfie heads off to confront his cousin. However, Michael turns on the charm with Alfie, explaining that Jean has been behaving strangely and stealing their possessions. Adding the finishing touch to his charm offensive, Michael asks a surprised Alfie to be his best man at the wedding.
Returning to The Vic, Alfie starts searching for the missing cash, believing that Jean must have stashed it somewhere. However, Jean tells Kat exactly what happened and Kat believes her, knowing how scheming Michael can be. Later, Roxy arrives at The Vic and offers Alfie a loan from Amy's trust fund, promising that Kat wouldn't need to know. She places the cheque in his hand and they share an intimate moment until they are interrupted by Kat. Heading out to see Michael, Kat is livid with him and demands the money back. Will Kat fall for Michael's charm or see him for what he really is?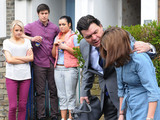 Meanwhile, Lucy is still seething over Derek taking money from the café's till in return for stock she hasn't asked for. Soon afterwards, the Square's younger residents come together to throw a party for a sad Tamwar, with Alice also included in the arrangements. Derek soon realises that Alice is attracted to Anthony, so he pays the antiques dealer a visit and warns him to look out for Alice. As the party gets under way, Lucy wants revenge on Derek and decides to spike Alice's drink, while encouraging her to make a move on Anthony. When Derek later spots Alice being sick outside on the Square, a sly comment from Lucy makes him realise that she is responsible for his daughter's drunken state.
Elsewhere, Zainab blames herself for Afia's departure while Masood comforts Tamwar, Kim is shocked when she quizzes Ray over his exes and discovers how many he has, while Alfie suggests starting up a Queen Vic football team in a bid to drum up new business.