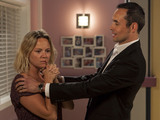 Janine is lonely as she waits in the hospital for Michael to attend Scarlett's medical appointment today. Back on the Square, Michael is running late as the taxi hasn't arrived and he has also locked himself out of the house. Desperate for help, Michael turns to Alfie for support. Alfie agrees to help him despite their recent animosity, but warns that Michael must never hurt his family again.
At the hospital, Janine is emotional as she feels that Michael has abandoned her. Michael eventually shows up following a desperate race to get there, but Janine is sceptical over his excuses and explanations. Will she give Michael another chance, or push him away for good?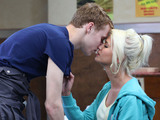 Meanwhile, Lola is eager to have some fun, so she leads Jay out on a mission to get some free food. Lola manages to score free drinks in the café by pretending to go into labour. However, over at McClunky's, Nico isn't so easily fooled and warns the pair to pay their way or leave. Later, a heated argument ensues as Nico returns to work to find that Fatboy has given Lola and Jay free food. Lola flies into a rage during the row, causing Nico to back into a shelf and damage his stock. With the argument over, Lola allows Jay to feel her baby kicking and they share a kiss. Soon afterwards, though, Lola must face the music over her latest misbehaviour when the police arrive to arrest her on suspicion of criminal damage.
Elsewhere, Shirley is stunned to discover that she is now a grandmother as Denise explains that Carly has had a baby. Shirley is crushed that Carly didn't tell her this, so Denise hands Carly's phone number over. However, when Shirley calls Carly, she is rejected by her and turns to alcohol to ease her pain.
Also today, Andrew cancels plans for a meal with Rose, preferring to stay out with the football team.