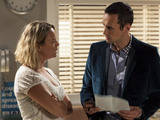 Michael pays another visit to a tired and irritated Janine, asking her to sign some papers which will make him a signatory to the business accounts. However, this makes Janine suspicious as she still fears that he is trying to get his hands on her money. Janine then suggests that they should attend a post-natal class, which Michael reluctantly agrees to. Soon afterwards, though, Michael panics when he hears that the topic will be emergency resuscitation, and abandons Janine by rushing out of the class.
Later, Janine takes a trip back home and becomes further suspicious when she spots the keys to Michael's new car. When Janine finds Michael in the office with the safe door open, she fears the worst and an argument follows between the couple. Michael insists that he is just trying to help out by keeping everything running smoothly in Janine's absence. Janine appears to forgive her husband, but she later secretly informs Billy to change the combination to the safe and keep an eye on Michael…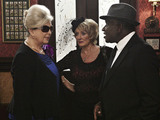 Meanwhile, Cora and Rose accompany Patrick as he attends the funeral of an old friend. At the wake, Patrick confesses that his friend's widow may not be pleased to see him, so Cora comes to his rescue by pretending to be Patrick's wife and telling the woman in question that he is a changed man. Cora also tries to charm her into offloading her husband's possessions onto the charity shop. As the pretence continues, is there a chance that Cora and Patrick could genuinely become more than just friends?
Elsewhere, Lola has spent a night in the cells but is released with a warning. Back on the Square, Lola is hurt when Jay tells her that their recent kiss was a mistake as he still misses Abi and doesn't want to hurt her. Soon afterwards, Billy vows to keep Lola in the house and out of trouble until her baby has arrived.
Also today, Alfie makes Billy the captain of the football team due to all of the publicity he's receiving over the Olympics - but a battle brews as Jack isn't best pleased.