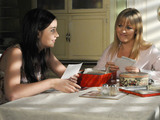 Tanya feels guilty for interfering in Cora's life yesterday, so she and Lauren team up to make things right - deciding to replace a bracelet that Cora lost recently. Needing a picture of Cora wearing the bracelet to find a match, they get the key to her house from Poppy and start to rifle through her things. In doing so, Tanya finds a document which immediately grabs her attention and brings it back home with her. Tanya is reeling as the document reveals a shocking family secret that Cora has kept from her all her life…
At the same time, Max needs to borrow some money and asks Jack for help. However, as Jack is distracted by two air stewardesses he is having lunch with, Derek steps in and offers his support instead. Max declines his financial assistance, and Derek is soon intrigued to realise that his brother doesn't want the money for his upcoming wedding - it's for something else. Later, Max goes to see Derek and says that he can sort everything out if Derek can 'get him the address'. Derek agrees, but whose address are they talking about, and what is Max up to?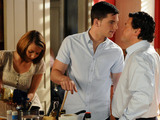 Meanwhile, Lauren convinces Joey to come to her place for lunch. However, Joey isn't pleased to find Alice and Derek there. Another argument between father and son erupts, but when Alice makes a mess of the cooking, the pair put their differences aside by stepping in to help. The peace doesn't last for long, however, as Joey erupts with rage when Alice comments on how much he has in common with Derek. More harsh words are exchanged between Joey and Derek - will they ever make peace?
Elsewhere, Tamwar informs Masood that he is thinking of going back to university and giving the restaurant to him and Zainab. However, this is bad news for Masood because he has just been offered an interview for a teaching assistant position. Masood keeps quiet over his news, but his anxiety grows as Zainab seems keen to take over the business - believing that it will help her to fund the biggest wedding Walford has ever seen. To Masood's dismay, Tamwar makes his final decision - he's going back to university and wants his parents to have the restaurant.
Also today, Billy takes a step back from looking after Lexi, eager for Lola to learn how to look after the newborn herself.