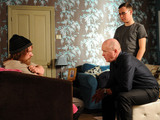 With Ian staying at the Branning house, Tanya isn't best pleased when she hears that Lucy is refusing to speak to her father, and is unimpressed further to learn that Joey has moved into the Beale residence. Tanya soon confronts Lucy, encouraging her to focus on her dad and not let Joey influence her decision - claiming that he's just as selfish as Derek. However, a defiant Lucy insists that this has nothing to do with Joey - Ian caused this situation by abandoning her.
Later, Ben and Phil visit Max's place and are shocked by Ian's dishevelled state. When Phil tries asking whether Ian has spoken to anyone about Heather, he is shaken as Ian just stares at him silently. Phil immediately decides to take Ian back to the Mitchells', where Shirley tells him all about the charity abseil she is doing for George. As Shirley starts talking about Heather, Ian is soon left distraught as the memories of Ben's guilt suddenly return to him…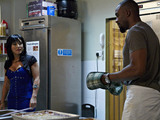 Meanwhile, a number of the Queen Vic's football team members begin dropping out of the squad - including Ray, who appears unusually awkward around Kat. However, Kat decides to take control of the situation by lining up the men and delivering a strong motivational speech, which charms them into sticking with the team after all.
Elsewhere, Kim spots some documents in Ray's flat relating to a house to rent, and immediately assumes that he is looking for somewhere for them to move in together. Kim is thrilled at the possible romantic surprise, but Denise fears that all may not be as it seems.
Also today, Anthony tries to behave badly during a date with Alice so that she stops liking him - but with Derek still interfering in his daughter's love life, it won't be as easy as he first thought.