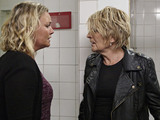 It's the morning of Shirley's sponsored abseil, but she has done a disappearing act in her worried state. Phil also has another crisis to worry about as Ian has also vanished, so he orders Ben to find him. Eventually, Phil manages to track down Shirley, as she is hiding in one of the cars at The Arches. Although Phil tries to reassure her that everything will be fine, Shirley confesses that it's not just her fear of heights that she's worried about - with Heather gone and Carly out of her life, she fears she has no purpose.
Soon afterwards, Shirley finally agrees to go ahead with the abseil after Jean orders her to pull herself together. Shirley has another wobble as she locks herself in the café toilet out of fresh fear, but is forced to face the world again when Janine needs to use the bathroom.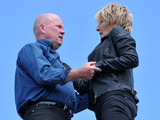 Later, it turns out that the abseil kit hasn't arrived, but Phil urges Shirley to conquer her fear of heights by getting on The Vic's roof anyway. Shirley agrees on the condition that Phil joins her, and an emotional moment follows for the pair as he stands by her every step of the way, with a crowd watching on below. Realising how much she loves Phil, Shirley asks him to marry her…
Meanwhile, Fatboy, Lucy, Zainab and Ray all prepare for the cook-off competition. However, Ray soon makes an early exit from the contest, realising that it's time to show Kim how much she means to him. At the same time, Ian watches Lucy from afar as she takes part. Who will the winner be?
Elsewhere, rivalry between Roxy, Lola, Masood and Syed intensifies at the baby competition, while Michael urges Janine to start trusting him as their troubles continue.