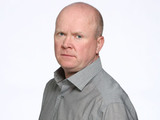 Phil tries desperately to keep his family from falling apart - and has a glimmer of hope when, for once, a past Mitchell crime plays in his favour.
Meanwhile, Tanya isn't pleased when she returns home to find a complete stranger wearing her clothes, which means that she and Sharon get off on the wrong foot.
Soon afterwards, Sharon heads over to The Vic and catches up with Billy and Tracy. She also chats to Jack again, asking if he will buy her engagement ring as she desperately needs money. Jack insists that the ring is worth a lot more than he'd be able to afford, but Sharon insists that the ring is worthless to her now and takes his cash. She also accepts the offer of a drink from Jack…
Some storyline details have been held back for this episode.