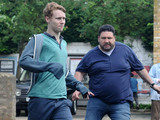 Jay is struggling to cope now that the truth about Heather's murder is common knowledge. Phil is furious with Jay for his recent actions and issues a stern ultimatum - he must change his police statement or be disowned. However, Jay stands firm and refuses to agree. When a livid Phil throws Jay out and warns him not to come back, Jay is forced to wander the Square and finds himself confronted by a number of angry residents - including Andrew Cotton.
As an upset Jay looks for somewhere to hide out, he bumps into Patrick, who is also angry with him. However, Patrick begins to feel sorry for Jay when he breaks down and reveals exactly what happened on the night of Heather's death. Later, Jay heads to Billy's place, where he has been offered a place to stay. However, he is left in further turmoil when Billy changes his mind, saying that with Lola and Lexi's welfare to consider, he can't stay there after all. With nowhere to go, Jay heads to the war memorial and considers everything he has lost…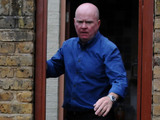 Meanwhile, Phil is worried about what Shirley and Roxy will say to the police, reminding them that the future of their family is at stake. Phil convinces Roxy to lie for him, as she doesn't want Ben to be imprisoned for years. Shirley, however, struggles during her police interview and Phil is worried about their future together.
Elsewhere, Sharon moves out of the Beale house to give Ian and Lucy some space. She moves into the B&B despite being offered a room at Jack's, but will she end up succumbing to his charms again?