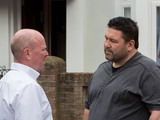 When Roxy complains that the Mitchells are being treated like criminals, a short-tempered Phil orders her to move out. Phil then leaves Sharon delighted by offering her the manager's job at the R&R. Sharon hints that Phil now has a big empty house while she is stuck in the B&B, but he doesn't react to her words. Later, Phil arrives home to find Shirley there and he wonders if she has decided to forgive him. However, Shirley insists that their relationship is over, before warning that she may still report him to the police.
At the same time, Denise isn't best pleased that Patrick is allowing Jay to stay at the B&B, and she warns the teen to stay out of her way. Later, Patrick is fed up with Jay hiding away from everyone, so he takes him over to The Vic. This provokes a furious reaction from Andrew, who tries to hit Jay. However, Phil stands up for Jay and forces Andrew to back down. Could an isolated Phil be prepared to forgive Jay?
Meanwhile, Ian agrees to cover Lucy's shift at the café while she attends a party that Lauren is throwing. After a shaky start, his old business skills soon come flooding back to him, and it seems that the café could be on the way to making money again. However, Ian's good mood doesn't last for long when Phil arrives and orders him to visit Ben. Phil wants Ian to convince Ben to change his statement to avoid going to prison for years. Will Ian co-operate?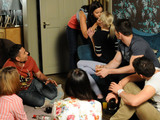 Elsewhere, a game of spin the bottle begins at Lauren's party. Lucy is miffed when Joey and Whitney have to kiss, so she gets revenge by taking a picture and sending it to Tyler. Soon afterwards, Lucy and Lauren have to kiss, along with Fatboy and Anthony!. Alice and Anthony also kiss and seem to enjoy it, but Lauren makes things awkward by drunkenly blurting out how much Alice fancies Anthony.
Also today, Janine makes a hasty return to work and ends up feeling sidelined when she hears that Sharon is now in charge at R&R.