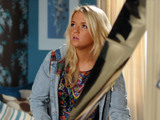 Patrick is still worried about Jay's wellbeing and encourages the teenager to start leaving the house again. Jay is scared of facing the angry Albert Square residents, but changes his mind and heads outside when he hears that volatile Andrew has now left Walford. At the same time, Abi arrives back on the Square and realises something is wrong when she discovers that Ben's phone is dead and Jay is no longer living with Phil. However, with Max and Tanya not around, nobody will tell her what's going on until she speaks to her parents.
Later, Jay is delighted when Lola informs him that Abi is back. Jay soon spots Abi on the Square, but just as he is about to run over, he sees Max's car pull up and knows that the Brannings will tell her the truth about Heather's death before he gets a chance to. Watching from afar, Jay spots Abi's face turn to horror as Max and Tanya tell her what really happened to Heather. As the day continues, Jay turns up at the Brannings' to explain himself. However, a sickened Abi doesn't want to see him - slamming the door in his face…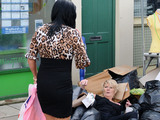 Meanwhile, Kat sees that Shirley is in a state after drowning her sorrows, so she decides to take her back to The Vic. Alfie suggests that Shirley could start working at the pub to take her mind off things, but Kat doesn't like this idea. Instead, Kat claims that Shirley shouldn't have to work and should demand money from Phil. Taking this on board, Shirley heads over to the Mitchell house, where Phil is with Sharon. Phil immediately tells Sharon to leave. As Shirley demands money from Phil, he turns the conversation to the fact that Ben is pleading guilty - before adding that he desperately wants her back. Not wanting to be tempted by Phil's words, Shirley walks out - leaving him distraught.
Elsewhere, with his late father's birthday drawing near, Dennis has been talking to Ian about how his dad died in a helicopter crash. Realising that the lies she has told to protect Dennis from the truth are about to be exposed, Sharon is adamant that it's time to leave Walford.
Also today, AJ returns to Albert Square with the news that he's getting a divorce and wants to stay with the Masoods for a while, while Syed has shut down his stall and launched a new business selling cleaning products.