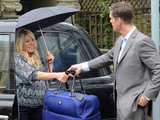 It's Dennis Senior's birthday, so Sharon marks the occasion by making sure that her son knows what a good man he was. Still intent on leaving Walford, Sharon shares her plans with Jack, who makes it clear that he's disappointed over her decision. Ian is also upset over the news and accuses Sharon of running away, telling her that he knows she has been lying to Dennis about what really happened to his dad. Unhappy that Ian seems to be branding her a coward, Sharon walks out in a bad mood.
Later at the bus station, Dennis tells Sharon that he wants to stay in Walford, pointing out to his mum that she's never happy because they are always leaving somewhere. Realising that Dennis is right, Sharon heads back to the Square with the intention of sticking around - to the delight of Ian and Jack. When Jack tries to claim his prize following their recent bet, Sharon eventually gives him a small kiss. Jack is smitten.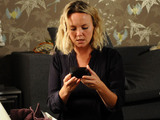 Meanwhile, Janine is still not coping with the pressures of motherhood. Later, Tanya tries to assure Janine that things will get better, but she ultimately makes things worse by inadvertently putting the thought into Janine's mind that Michael could be having an affair. When Janine finds a necklace while rummaging through Michael's belongings, her worst fears appear to have been confirmed. However, when she confronts a shocked Michael, Janine hears that the necklace is a present for Scarlett.
Elsewhere, Anthony asks Alice out on a proper date, despite Joey trying to warn him off. As the pair finally get some alone time together, they share a kiss and both enjoy it. Alice seems to be far more confident than Anthony expected when she tries to drag him into one of the sheds at the allotments. However, things can't go further as a drunken Shirley arrives and orders them out.
Also today, Abi seeks answers from Jay but they're interrupted when Tanya drags her daughter away, while Kat cancels a meeting with her mystery lover in favour of a night out with Alfie - but work soon gets in the way of quality time for the Moons.