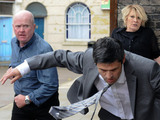 Phil is still desperate for Shirley to come home, but she stands firm - convinced that he is only trying to conceal his involvement in the cover-up by keeping her quiet. Later, Shirley turns her attentions to a sleazy bloke named Pete at the R&R, knowing that he will buy her a drink. Phil soon arrives in yet another attempt to talk to Shirley, but she still isn't interested. As the ex-couple exchange words, Sharon has a run-in of her own with Pete and orders him out when he tries to take advantage of her.
As Pete leaves the club, he takes Shirley with him, while Sharon informs Phil of how Pete has just behaved. A concerned Phil follows the pair outside and spots Pete trying to make a move on Shirley, despite her attempts to knock him back. Shirley is grateful when Phil intervenes by hitting Pete, but it's still not enough - she can't help but think that he only cares about protecting himself. At the end of his tether, Phil makes a phone call to someone who might be able to help…
Meanwhile, Kat pays a visit to The Vic and panics when Alfie says that he's doing some washing. Realising that the incriminating bandage is in the washing bag, Kat fears that her secret will be exposed. She then tries her best to get the bandage back before it's too late, but it's to no avail. Later, still fearing the worst, Kat goes to the R&R and catches up with Tanya. As they chat about their respective partners, Tanya confesses that she wishes Max was more like Alfie. But does Kat wish Alfie was more like Max?
At the same time, over at the pub, Alfie finds the "I love you" message on the bandage, as written by Kat's mystery guy. Will he put two and two together and realise that Kat is having an affair?
Elsewhere, with Masood having to work, he encourages a reluctant Zainab to help out Ian today. Zainab initially has no patience with Ian, but when she spots him struggling to place a food order for the chip shop, she's shocked to see how he isn't coping with the simplest things. Ian soon realises that he needs professional help.