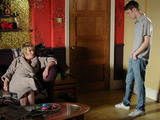 Denise finds Shirley sleeping rough outside the Minute Mart, so brings her back to the B&B. Jay is uncomfortable at being in close proximity to Shirley and initially decides to avoid her. However, following some advice from Patrick, the teenager tries to have a heart-to-heart with Shirley. His efforts backfire, though, when a furious Shirley forces him against the wall, declaring that he and Ben should both be hanged. Denise soon realises that Shirley will never be able to forgive Jay or Phil, so she advises her to leave Walford to escape the painful memories.
Later, Shirley prepares to depart Albert Square, but decides to pay one last visit to Phil's house with a bottle of whiskey in her hand. After trying to taunt Phil, a fragile Shirley slumps out on the sofa. Phil then takes action by making a desperate phone call, ordering the person on the other end to come to the house. Soon afterwards, Shirley refuses to stay under Phil's roof for any longer and starts stumbling through the market. Just as she is about to pass out in the gutter, Shirley is left stunned to see her daughter Carly in front of her. Carly is back after being contacted by Phil, but she is disgusted by the state Shirley is in, so turns and walks away…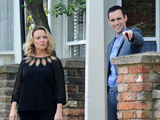 Meanwhile, Janine wants Michael to look after Scarlett while she works in the office. Michael initially refuses as he claims he has lots of appointments, but is eventually forced to relent. When Janine then checks the diary and finds it empty, her paranoia intensifies as she wonders why Michael lied. She is also horrified to find a cheque book stub for £20,000 and no named recipient. Janine confronts Michael over his mysterious behaviour, only for him to reveal an expensive sports car he has bought her as a surprise. When Janine continues to question Michael, he finally loses patience over her mistrust and storms off.
Elsewhere, Sharon is worried about Dennis as he is struggling to make friends in school. When Dennis talks to Jack about his problems, Jack encourages him to make an effort in school so that his mum can stop worrying about him. However, Sharon is listening in and immediately warns Jack that it's not his place to give Dennis advice.
Some storyline details have been held back for this episode.