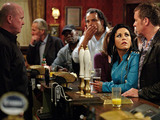 Phil is pleased with his refurbishment of The Vic, but with business still slow, he goes to great effort to make sure everyone knows the pub will be the place to be that night. As the evening arrives, his efforts pay off as the place begins to fill up. Gathering everyone's attention, Phil unveils a replica of the old Queen Vic bust which is now back in its rightful place, though he can't help but feel that the response of punters could be more enthusiastic.
Soon afterwards, Kat and Alfie return home to The Vic and receive an extremely warm reception from the customers. The only thing spoiling the atmosphere is Kat's anxious mood, as her mystery Branning lover is present at the pub. Kat and Alfie attempt to apologise to Phil for leaving him in the lurch, but he immediately drops a huge bombshell on the couple - he's now in charge of the The Vic and they no longer work there…
Meanwhile, the Brannings decide to venture out on a couples' night out to the Queen Vic. Jack lines up a date for Derek for the occasion - a beautiful woman named Lisa. Derek is delighted when he comes face-to-face with Lisa, but his good mood doesn't last for long when she stands up and is six foot tall! Tanya can't help but giggle at the unlikely match, while Joey also enjoys Derek's embarrassment as he watches from afar. Annoyed that his family are laughing at him, Derek angrily squares up to Jack.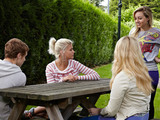 Elsewhere, Lola's social worker Trish continues to put pressure on her, questioning her over a bad cough that Lexi has. When Billy returns home, he can sense that Lola is having a tough time, so he offers to babysit Lexi while she spends some quality time with her friends. Outside, Lola and her mates are interrupted by a boisterous girl gang and they all decide to leave as they feel uncomfortable. Among the gang, Lola spots someone she would rather forget…
Also today, a concerned Roxy continues to check on Michael, Lauren agrees when Michael asks her to babysit Scarlett for a fee, while Ray has a successful meeting with a potential sponsor for his kid's initiative scheme at the gym.