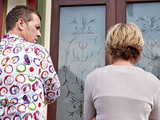 Kat is feeling guiltier than ever, knowing that she and Alfie wouldn't be losing The Vic if they hadn't needed to go away to save their marriage. It's also clear that Alfie is still struggling to trust Kat when he spots her receiving a text message on her phone, even though it's entirely innocent. When Kat hears about Janine's departure, she decides to offer some support to Michael - but as a suspicious Alfie watches them from across the Square, he wonders whether his cousin was the mystery lover.
Later, when Kat tells Alfie that she confided in Michael on the night they left for their holiday, he asks her outright whether Michael was her mystery man. Kat confirms that he wasn't, but Alfie is still in an emotional state - telling his wife that he doesn't think he can carry on like this…
Meanwhile, Cora is keen for the Brannings to be a happier family, so she asks Tanya why she hates Derek so much - hoping the pair can put their differences behind them. Tanya insists that she won't be making peace with Derek, revealing that he threatened her a while ago. A furious Max overhears this conversation and soon confronts Derek, warning him never to threaten Tanya again. However, Derek maintains the upper hand by warning Max not to tell him what to do - otherwise Tanya might just find out about his 'problem'.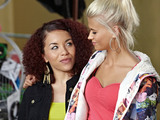 Elsewhere, a tough day for Lola begins when Michael realises she has been stealing his business and angrily confronts her. However, Michael backs down and is clearly worried about his own reaction when Billy points out that Lola is just a kid. Later, Lola again sees Alexa - an old friend from the care home - among a girl gang who are causing trouble in Walford. Alexa tries to convince Lola to help the gang to shoplift, and the young mum fears the repercussions if she says no, so she agrees to be their lookout. As the day continues, Alexa starts picking on Abi while Lola is with the gang. A brave Abi stands up for herself, and Lola shows where her loyalty lies by leaving with her.
Also today, Roxy continues to spend time with Michael but pushes him away when he leans in to kiss her, while Phil offers to look after Dennis for Sharon and clearly enjoys spending time with the youngster.