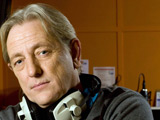 Actor
Mark Wingett
has claimed that
The Bill
's move into a post-watershed slot last year was an "unwise decision".
The star, who played PC Jim Carver in the police procedural drama, also said that the lack of promotion during the
revamp
may have hurt the ITV1 show.
"I think moving the slot was an unwise decision. It kind of got lost. Also it wasn't promoted in a very good way - the big soaps get loads and loads of promotion. And I think the audience has changed," he told the
BBC
.
Wingett, who was the main focus of the programme's pilot
Woodentop
in 1983 and starred in the series for a further 21 years, branded the show's recent
axe
"dreadful".
He added: "When we did
The Bill
back in the '80s we had no meddling by ITV, it was completely isolated making a programme with 12 actors in a small studio - an ex-tobacco warehouse in the East End of London.
"Certainly when I left five years ago it had a huge hangar-sized warehouse down in Merton, employed about 500 people and 32 main cast in it plus a dozen guest actors in each episode. It was an extraordinary operation, the largest set I've ever been on. I can see that its expensive to run. Maybe that's the problem - that it became a factory drama."