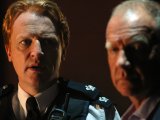 Part 1 of 3
Superintendent Heaton and Inspector Gina Gold brief the troops about an attack on Rafi Hassar, a young man left for dead next to a pile of 'Rock Against Racism' concert flyers. They are concerned that racist gang, The Bulldogs of Patriotism, may have been involved in the attack and are planning to cause trouble at the concert that evening.
DCs Terry Perkins and Jo Masters visit Rafi in hospital and are shocked when the doctors confirm he was tied up and whipped. Rafi's father, Ahmad, becomes irate when Rafi's uncle, Nadim Mura, visits and accuses Mura of leading Rafi astray. Mura later tells Jo and Terry that Ahmed is hostile towards him as his mosque contributed towards the concert and Rafi was distributing flyers for him when he was attacked.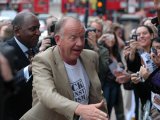 Elsewhere, Sergeant Stone and PC Diane Noble visit local MP Paul Saggar who is also a contributor of 'Rock Against Racism'. They are greeted by his assistant Derek Jacobs who explains that their offices were broken into but nothing was stolen. Later, at the concert venue, Heaton and Gina are dismayed when they see Sagger saunter in to prepare for a live interview.
Having already crossed swords with Heaton earlier in the day, Saggar pushes him further when he talks publicly to the news presenter, Alex Lovell, about Rafi's attack. Angry, Heaton steps in and the interview escalates into an argument live on air – leaving Heaton furious that Saggar's actions may have provoked an already tense racial situation.
After further investigation, Terry and Jo discover that Rafi was whipped by his father when he found out he was helping his uncle with the leafleting. With the concert in full flow, the officers receive an urgent call to say Ahmad is on the warpath and heading to the venue. The tension at the event mounts when Saggar and Mura walk on stage together to address the excited crowds, Ahmad is spotted and the sound of gunshots ring out around the concert hall…
This three–part special combines with unique content on www.itv.com/thebill as viewers will be able to explore the official Case File.
www.thebill.com
www.youtube.com/thebill
www.thisiscanley.com
www.paulsagger.com
www.myspace.com/rafirock
Episode numbers for The Bill will run slightly out of sequence for the next couple of weeks due to rescheduling. This is not an editorial error.