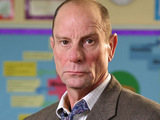 Waterloo Road
is leaving its home of Rochdale and will begin filming in Scotland from next year, it has been announced.
The popular school drama will make the move next April as part of the BBC's aim to produce more programming in Scotland. The first series to be set in the show's new location will air in September 2012.
Waterloo Road
fans have already seen ten episodes of the programme's seventh series, with another ten due to air from September. A further set of ten instalments will be filmed in the autumn for broadcast after Christmas, and these will be the last to be shot in Rochdale.
It is understood that viewers will see an "explosive" storyline air in early 2012 resulting in a group of existing teachers and pupils setting up a new independent school in Scotland, which will also use the Waterloo Road name.
Eileen Gallagher, chief executive of the show's Glasgow-based production company Shed, commented: "
Waterloo Road
has had an incredibly happy six years in Rochdale working with one of the best TV crews in the country. But now we have outgrown our present site and we couldn't resist the BBC offer to take the show to Scotland."
BBC Drama executive Ben Stephenson added: "As part of our ongoing commitment to establishing a drama base in Scotland, I asked Shed whether they would be interested in re-locating future series of
Waterloo Road
to their home country. While sad to leave Rochdale, they immediately saw the potential of the new stories they could tell, as well as being excited about putting down roots in their native Scotland.
"I am sure fans will love what Shed have planned - it will remain the show our audience love. Alongside
River City
, the arrival of
Waterloo Road
establishes Scotland as a home of mass drama production and I am excited about the many new Scottish developments coming down the track.
"I would like to pay tribute to Rochdale and the local community who have taken the hit series to their hearts over the past seven years and saw it triumph at this year's National TV Awards to win 'Most Popular Drama'."
Waterloo Road
's return to screens next month will see
new headmaster Michael Byrne, played by Scottish actor Alec Newman
, begin to make his mark on the school following
the departure of Amanda Burton's character Karen Fisher
.
> Read all the latest Waterloo Road news