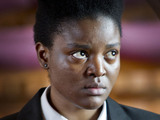 This is the moment that
Waterloo Road
newcomer Lula causes a scene at Denzil's commemorative ceremony in next week's episode.
Lula (
Marlene Madenge
) loses her temper when she is being bothered by fellow pupil Imogen, who is convinced that there is something supernatural about her.
Imogen's words are hurtful for Lula, as her uncle Lionel has repeatedly told her that she is possessed.
Half grateful for an escape from the emotional ceremony, Tom sends Lula straight to the cooler when she lashes out...
Waterloo Road
continues on Thursday, August 30 at 8pm on BBC One.
> 'Waterloo Road': Race against time for Tom - spoiler pictures
> Read our spoiler for next week's 'Waterloo Road' episode
> Read more 'Waterloo Road' spoilers and news
Watch a preview of Lula's outburst in the video below: