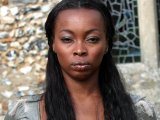 After a strong start to series five of ITV's glitzy soccer drama Footballers' Wives, Digital Spy catches up with one of the series' newest signings, Phina Oruche, who stars as the glamorous - but outrageous - Liberty Baker.
Could you tell us a bit about your character, Liberty?
"Liberty Baker is an international supermodel, the ilk of Claudia Schiffer or someone like that. She's originally form Britain but she's gone off to America and lost herself a little bit in terms of where she's come from - I actually think she hyped up the accent so that she has no roots any more. She is having a career resurgence, her footballer boyfriend has gone to jail protecting her rights and while he has been away, her career has gone from strength to strength and she's also gotten a little lonely and a little confused and she's picked up two habits."
What habits are they?
"Cocaine and a girlfriend.."
Are there any similarities between yourself and Liberty?
"We're both five foot seven [laughs] we're both brown, and have waist length hair… No, I was an international model for a long time. I have lived in America for the last ten years. I have a very sad, mixed-up accent now – 'scouse American', I call it. And now I have much more pity for those of us who leave this country and go somewhere else and end up with this transatlantic voice because you can't help it… So, there are those things. As far as theology and relationships go, we couldn't be more polar opposites."
So it was an interesting character for you to be playing then?
"It's really difficult, it's a tough one because it requires me to go places I've never been before. And obviously the first time I kissed a girl, there was a crew there [laughs], you know, 50 people that I'd never met before. It's just odd. Bizzare. I like men. Men are big, men are funny and they're [grunt]... so I like big strong men."
Moving on to the men in Liberty's life, what would you advise your character to do with Tremaine?
"Jump him, roll him, do it against the wall, do it in the car, do it wherever you can. That's a hot man. Love your man, ditch your woman – that's what I'd advise her to do. I'd be like 'are you out of your mind? Look at him. He looks like he's a specimen of great beauty.' I mean, hello, if you have a choice between this gorgeous black man and this cute blonde woman, 10/10 I'd go with the gorgeous black man. That's Phina. So I'm telling you, Liberty's cocaine abuse is going crazy because this man loves her. He went to jail defending her honour. And she's having a couple of issues with fidelity. I don't think the woman's a lesbian, I just think she's gone off her rocker. I think she's just lonely, crazy and insecure. Hang on to the man, that's what I would say. Love your man. Stand by your man, as Dolly Parton would say."
Do you and Chucky get on well?
"I love him, I think he's fantastic. He's such a strong actor, he's such a funny human. He's like my cosmic twin. We're both Nigerian, we're both really fit. I just love him. I think he's fab. I think he's such good people (what?!) I'm very pleased that out of all the people I could have gone through this crazy experience with he was the one that God drew up for me. I'm very glad about him. I have nothing but respect and admiration for him."
Can you explain the dynamic that your PA, Urzula, adds to your relationship with Tremaine?
"She just confuses it [the relationship], she boggles it, she twists it. She's a trouble maker, she's a little minx. I think those women that are in that kind of limelight live in a parallel universe and there's very few people who understand it. If you're Britney, if you're Victoria Beckham, or someone who's got loads of money, you're not exactly in normal day life and so Urzula has capitalised on the fact that Liberty's lonely and people don't understand her like I do. She laughs at all her jokes but she's actually not who she appears to be. She's [Urzula] a mess, she's just a trouble maker, she's a user but my character doesn't find that out for a while…"
How do you and the cast actually gel and how did you actually settle in with the cast?
"It was easy. It was actually quite easy. Laila Rouass dived on me the first day and I thought 'woah, ok' and from there Sarah Barrand. I had a piece come out in, I think, The Mirror pretty soon after I got there and she was calling me in wishing me all the best… and I looked gorgeous and I just thought 'what a generous bunch'. Helen Latham who plays Lucy, I'm really fond of. Gilly Taylforth who is Jackie Pascoe, I did my first scene with her and it was very bumpy because I was a total EastEnders fan before I moved to the States. I was looking at her on my first day and I'm thinking 'What's Kathy Beale doing here?' I lost the plot for a minute and I was like '[crazy sound] why is Kathy here? Hello?' and sensed, actor to actor that I was just stunned. She just sensed it and she just gently in the scene grabs hold of my hand and looked at me and it was like she said 'it's alright' and I was fine after that. That was my only sort of moment of nerves and horror. Zoe Lucker's a very generous actress, I like her very much. Obviously I've mentioned Chuckie Venice, Ben Richards, the lovely new boy played called Callum played by Craig Gallivan. And then I got to work with Joan Collins, I mean Hello? What else could a girl ask for for Christmas? It was an nice package, I tell you."
What was it like working with Joan Collins?
"Joan Collins is fabulous. It's really weird, she's kind of a smaller version of what she plays. Meaning that she's a very glamorous strong woman but she's very kind and wickedly funny. She's not a diva at all. I mean, we were supposed to call her Miss Collins and she was like 'who said that, I don't want that, I'm Joan'. She's cool. She's cool. And she's funny. I was actually surprised because she's smaller than I thought. She's got legs eleven. I really understand why men love her. I got it… and she was very kind to me. We love Joanie. "
How did you actually land the role?
"Well, I was in America, that's where I live, and I had an agent here and the agent had said to me that they're looking for [a] black model with attitude and I thought after all I've been through if I cannot play a black model with attitude what the heck am I doing? I just thought, you know what, it's now or never so I just jumped on the plane and I got over here and within a week of getting here I'd auditioned twice and got this series and everything just went mayhem. Everything just went wild form there. It's just been a really gratifying experience. It's really nice to be challenged at work and Cameron Roach who shoots the series is a brilliant, brilliant man, he's very clever. I think what he's trying to do with these two characters, Tremaine and Liberty, is great for television. I haven't seen strong black couples from the inside on British television displayed like this. So it's gonna be big honey! Gonna be big! And I'm very thrilled and delighted that I'm part of it."
How does this role compare with other roles you've had in the past?
"Well, to be honest, I'm working on a role right now so I'd rather compare it on something with what I've got going on now because I've had that many roles, I mean, I was Olivia on Buffy the Vampire Slayer as Anthony Stewart Head's girlfriend. I did Nip/Tuck, Charmed, I did Diagnosis Murder and all these American shows because that's where I was living but this is the first fully-rounded evil brilliant, "oh my God", character. I mean, it's just like Christmas in a character. At the moment I'm playing Heather Lees on The Bill, a solicitor. I'm buttoned up. I'm suited and booted. I'm at the top of my game. I'm quiet, I'm reserved – and then there's Liberty. Off her rocker… demanding, shagging women and men, off her rocker, crazy, insecure, uses her body to get what she wants. It was a challenge because even though you're acting, you're still there doing it so if you're in a swim suit constantly or if you're in a mini skirt or in a whirlpool or diving out of bed starkers it's a little much. It's a lot to ask for – you know, before 9am in the morning. It's a big breakfast."
Do you see any similarities between Footballers' Wives and Desperate Housewives?
"I thought that Desperate Housewives ripped off Footballers' Wives, personally, I mean, Footballers' Wives have been going longer. I think somebody saw it. I mean, it can't be proven but I think somebody saw it, meditated on it. I mean FW wouldn't work in the states because they don't understand what a FW is - it's just different countries. I think they saw it, meditated on it and they went off and put it in a suburb and on it went. I think they probably ripped us off to be honest. But that's life. I haven't watched it for ages but yeh, the genesis could have easily been FW because what happens in the States is they very often find an English show... like Pop Idol becomes American Idol. You know, they do it all the time. The Office becomes The Office America. Ttried to do Ab Fab about five or six years ago, or maybe longer, and fortunately for us they didn't because British humour is British humour and British TV is British TV. I think that we can't really be beaten in that area. Just originate your own shows, thankyou. "
Footballers' Wives is developing a cult following Stateside on BBC America. What do you think the US audience make of the show over there?
"I've had a couple of people tell me it's crazy. It's lovely. I mean Americans generally are Anglophiles - they really love us and they don't quite get us and they kind of go 'the queen, Buckingham palace.. right?' You know, they don't quite get it and so they're bemused by it. They think it's wild because most American programming is very very restrained, sexually. You know, you don't get to see anything because they're concerned with the sponsorship of the advertisers on the networks so it's [FW] blowing their minds."
As a Footballer's Wife, Liberty is accustomed to a life of luxury, such as spa days, fake tanning, all of the glamorous things. Do you treat yourself to these sorts of things?
"Not fake tanning, I'm brown. I'm not into fake tan – you know, I'm Nigerian, so the fake tan is not necessary but I am partial to good skin care and I am partial to taking care of myself. I mean, at the moment, I'm running eight miles a day because I'm training for the London marathon for the Anthony Nolan trust. So at the moment I'm very sporty. I'm very much a fan of spa days and baths and messages because I've got tired muscles almost constantly."
What do you do in your spare time? Do you watch a lot of television?
"No, I watch EastEnders, that's the only television I watch really. And I'll be watching Footballers' Wives."
What do you think of British soaps overall?
"I don't watch television enough to have a comment on it. But I think that… I couldn't really comment on it to be honest. I've been back, I went straight from working a hectic schedule on FW to a hectic schedule on The Bill. I have an old memory of television. I've seen Hotel Babylon, I like that a lot. I don't know about the rest because besides watching the EastEnders omnibus on Sundays, I'm normally learning lines to be quite honest [laughs]. Ask me after April 23rd when I have a more saner schedule and I'll tell you. I don't know but I am definitely proud to be a part of British television because in general, I used to be a big fan of Bad Girls which is why when I heard that Shed (Footballers' Wives producers) were looking for someone, I jumped right over. I just don't have a lot of time for television at all at this moment given all what's going on."
Who were you looking forward to working with the most when you joined the series?
"I hadn't seen it. Once I'd got into it, I was like 'oh, Tanya Turner'. I hadn't seen it, though. I'd read it and then I got the job because it all happened sort of backwards, you know. I read this great part and came to audition for this great part and then got the job and then watched all the seasons concurrently so I got a huge massive shock of FW in July. I watched all four seasons at once. Not in one sitting but that week was just FW crazy. And I'm glad that I hadn't seen it before because I probably would have been terrified and freaked out and insecure because they're so gifted, those girls, and so I didn't have a chance to freak out because I hadn't seen it. "
Can you give us any hints as to what's to come in the new series?
"I think I gave you lots of hints with the breakdown of the two women and the guy and the drug abuse and just bad behaviour really. Mayhem and bad behaviour. What would you expect from the FW? Mayhem and bad behaviour… Delicious mayhem and bad behaviour."
Do you have a website at all?
"I do -
phinaoruche.com
and it's currently being upgraded. So it's normally there all the time but it won't be there for another week. But right before the series it'll be back up. And if you want to sponsor me for the marathon just visit
justgiving.com/phina
!
Next Week: Digital Spy speaks exclusively to Phina's on-screen partner, Chucky Venice - Footballers' Wives' Tremaine Gidigbi.