Soaps Interview
Ryan Thomas (Jason Grimshaw, Corrie)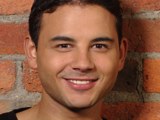 Coronation Street
's Jason Grimshaw - played by 25-year-old
Ryan Thomas
- looks to have potentially found 'the one' in Tina McIntrye (Michelle Keegan) as the pair fire up a relationship on the cobbles. However, the path of happiness is, as ever, blocked by none other than Tina's ex-boyfriend David Platt (Jack P. Shepherd). So what's to come for Jason and Tina? Is Jason still pining for his estranged wife Sarah? And will we ever see Jason's brother Todd back in Weatherfield? We gave Ryan a call to find out.
What were your first thoughts when you were told that they'd be throwing Jason and Tina together?
"I just thought it was really good for their storylines because I knew it'd bring the Platts and the Grimshaws back together in their usual warring ways. Who could forget the famous fight on the cobbles between Gail and Eileen? I think at some point that'll come again. There's always banter from one side of the Street to the other."
Apart from the obvious, what attracts Jason to Tina?
"I think it's because she's quite full-on with Jason. She made a big effort with him in the beginning, so he just played off that and spiced up his life a bit in the process. He wanted a bit more fun than just sitting there having a pint in The Rovers every day."
It all came a little out of the blue, didn't it?
"Yeah, Jason completely wasn't aware that Tina fancied him. She had to come onto him to make him realise, but as soon as he got the sign, he was in there! It doesn't take him long to get his pants off! I think Jason was playing with the situation a bit as well to see what he could get out of her. When he started getting the right signals, he just thought 'I might as well have a go'. They seem to be very happy at the moment."

Did the fact that Tina went out with David have any impact on Jason's decision to start seeing her?
"I don't think he wants to step on David's toes, no! I think he'd rather have an easy life!"

Do you think Jason and Tina work well together?
Yeah, I do. What we're doing at the moment is really great material and it's nice to see them happy and playing off each other. There's hopefully more of them together."

What's the general feel about where the relationship's going?
"I think it's quite serious. They're really trying to make it work."

Wedding bells on the horizon, then?
"Ohh, there always is in Corrie isn't there?! We've had that many weddings, I can't keep up!"

Is Tina 'the one' for Jason?
"I don't think that's possible in soapland because things always change. I wouldn't like to say she's 'the one' because it could all end in tears when the storyline comes to a head. At the moment, Jason's found someone that he's comfortable with. He's not getting spoken down to, either. The girls that Jason's fallen for in the past, someone's never right. I think in Tina, he's found someone who he can have a comfortable relationship with, where he's not having to worry too much about her. It's effortless for them. It's nice to see."

Do you think Jason still loves Sarah at all?
"I've always said that he'll always hold a flame for Sarah - and he makes little jokes about the situation and you could tell her loved her when he was with Becky - but now, he's really playing it down, almost like he's over her. He's not forgotten her, but he's starting to move on."

Jason can't seem to shake off David, can he?
"No, he'll never shake David off. The storyliners love to see David battering Jason!"

You've been getting naked quite a lot on screen quite recently. Do you think that the producers are quite partial to seeing a bit of flesh?
"I think they want to see a bit more nakedness, yeah! It's all fun and games and Jason's a builder having a bit of a laugh. He doesn't take things too seriously. I don't mind getting naked in the right context. I think he just shows off for Tina, too. She says 'get your pants down', Jason gets his pants down!"

What's it like working with Sue Cleaver?
"She's fab. She's a well-loved character and a well-loved mum. Sue brings all of our scenes to life. She's the rock of our family, too."

Jason has a great dynamic with his brother Todd. Would you like to see Bruno Langley back again?
"I really do hope so. We were just talking about that before. I did mention it to Kim [Crowther] at a meeting to see if there was any chance, but I just don't think the time's right for Todd to be back yet. But eventually, fingers crossed, he'll return."

How's life as a new dad treating you?
"Life being a dad is absolutely fantastic. I love it to bits."

Have you been up to see your brother Adam at Emmerdale yet?
"I haven't yet, but I'm sure I'll get the guided tour at some point. I forget that he's in Emmerdale until I'm asked about it at the moment because he's not even on screen yet! He's really enjoying himself. I was well chuffed for him when I found out." Get the Inside Soap magazine on your iPhone or iPad