Soaps Interview
Kevin Kennedy, Ken Morley (Corrie: A Knight's Tale)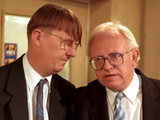 Reg Holdsworth and Curly Watts are back. It's been over fifteen years since the odd couple last walked the cobbles of
Coronation Street
together. Now,
Kevin Kennedy
and Ken Morley have reprised their classic roles for feature-length DVD
A Knight's Tale
, which sees Curly and Reg reunited with each other and more Corrie regulars. We grabbed Kevin and Ken for a chat about the DVD, their fans and if the characters could live on.
Can you tell us about how your respective returns for the DVD came about?[KM]
"Well, it was very short notice. Basically I had this telephone call saying, 'We've got this idea about doing a one-off DVD to celebrate the 50th anniversary of
Coronation Street
.' Then they told me what it was about, which I thought was a very funny idea about the three successive groups of people being locked up in a medieval castle - which was quite a good idea. But it's a very complex plot and very difficult to do, beautifully filmed, very well written and of course, as all good things in life, things turn out alright in the end - but it's not, as in life, what you ever expected to happen."
[KK]
"
Coronation Street
had a history of doing a few DVDs - I did the first one a few years back when we did the one on the QE2, which was Curly and Raquel's wedding. So they've had a history of them and then they said, 'Would you be interested in doing the 50th anniversary one?' Of course I was more than happy to do it because I'm very proud of what I achieved in
Coronation Street
and that back catalogue. What better way to celebrate it?"
What was it like returning to the roles after so long away?[KM]
"It was very difficult for me, because I'd forgotten who it was to be honest. You look at the odd video and everything out of the box to try and remember exactly what it was because it's 15 years ago since I left it. Not too long for Kevin. So I had to try and get back to square one of what he was really. With the greatest of ease after about two days, I slipped back into it."
[KK]
"It was very much like wearing comfortable slippers. I'd forgotten how much fun it was playing Curly and the bonus of course, was being back with Reg. That was brilliant and lots of fun - great script, the story has been beautifully shot, looks very expensive and the proof is in the pudding. I was actually rehearsing for something else at the time, so I was bit schizophrenic playing two characters for about a month."
How have Reg and Curly changed since we last saw them?[KM]
"Well he has changed in this. He has been at the top of the greasy pole, as he was lording it over hapless Curly Watts and now he's at the bottom of the greasy pole - with the greasy Curly Watts at the top! Like a lot of people who have chosen to semi-retire and found out that their pension is not enough dosh to live on, they then end up working three days a week stacking the shelves at the very supermarkets that they used to run. And this is what happens to him. He's given a job to run this joint for Curly Watts, who is the managing director of it and making a bit of a mess of it."
[KK]
"Yes, the roles have reversed with regards to Curly and Reg. He is now the one with the power over Reg. It doesn't take long before they are back bickering again like an old married couple. Even though their fortunes have been reversed, they are still exactly the same guys they were before."
Has Curly let the success go to his head?[KK]
"I think he tries to be that kind of high-flying businessman, but no - you can take the boy of Weatherfield... but he can't pull it off with Reg, because he knows him from before!"
Does he take advantage of being Reg's boss?[KK]
"Well even though he is actually his boss, he still gets manipulated by Reg. So that relationship hasn't changed. It's the same as it was before."
Have Curly and Reg kept in touch over the years?[KM]
"They probably have! Well, they must have because he apparently received this begging letter from Holdsworth who was on his uppers, asking if there was anything going and he has been given this one chance to prove himself. Although, like everybody else who has gone well past the age of 50, he is kidding everybody including himself. As is the case when he tries to do the job."
[KK]
"I think their paths have crossed quite frequently in one way or another. They aren't strangers to each other."
What do you know about Curly's life now - is he still married to Emma?[KK]
"Shall we just say now, that that situation has become a bit fluid. It looks like they are not really together. But, with it being a soap you never know what can happen next!"
Is Reg still a bit of a ladies man?[KM]
"Oh yes indeed! Never give up the chase! He doesn't particularly get off with anybody in this story because his main is running the actual establishment - which others try to have it away with each other in! He is an observer of other people's action."
And he takes a shine to Mary...[KM]
"Oh yes! It's outrageous really, because she is an innocent who has a very strong desire for another human being who she wants to be with for forever and a day and it doesn't seem like it is ever going to happen. When she is rejected, she is pounced upon by this parasite, who sees in her a chance to get hold of the millions which he thinks she has. But of course, she is skint and lives in a mobile home - which he doesn't know! But he does find out in the bitter end, having spent most of his money and time trying to have it away with her."
How do Norris and Reg get along?[KM]
"Not at all well! But then again, they are both egomaniacs who should never have been let out in the first place. So there is a battle between the two of them and a sneering conversation because Holdsworth can only remember him as a paperboy. He hasn't seen him for years and doesn't know that he owns the business. So he is putting himself forward as being an international manager who runs these events all over Europe, when in actual fact it's the first job he has had for years."
Where you pleased to hear some of the current cast were involved?[KK]
"It was a joy! I was really happy that Malcolm [Hebden] was in it because I think he is a very fine comic actor and I've watched and worked with him over the years. It's a 10-12 day shoot, so to have someone of that calibre on set with you is priceless. The lovely Helen Flanagan is always a joy."
Do you have a favourite scene from the DVD?[KM]
"To be honest, the whole thing is a cracker. It's got everything in it - jousting, medieval dancing, feeding, knocking about, running out of rooms, jumping into beds, fighting each other, being peevish, being greedy, torture dungeons - the lot! What more could you want?! And the lovely Rosie of course!"
[KK]
"A great scene between Curly, Reg and a dead pig - it's great fun!"
How did it compare filming the DVD to filming a normal episode of Corrie?[KM]
"Well it was always hectic. Modern day television, does not - because of the number of episodes per week if you are in a soap - have the luxury of what we used to have when we only did one or two episodes each week, when you could go in and rehearse things several times over in front of themselves and then in front of the camera. All that is gone. What you get today is several sheets of paper, which you learn alone in a room and then you step in front of the camera and do it. So it is very, very hard work which can be nerve-shattering for a lot of people and this is what happened with
A Knight's Tale
- the script is written, it's altered, it's re-written, it's finely polished, it's given to you and you go away and learn it and then you turn up and do it. There are no rehearsals as such any more. It's a very polished product I have to say and I am hypercritical of things really. It's a one-off anyway, it'll never be done again because in another 50 years we'll all be dead!
If the DVD is a success, do you think there is potential for another or even a spinoff series?[KM]
"I think, if they were ever to bring these two characters back it should be on a reversal process where Curly Watts is now a manager of some place like Asda, Morrisons or whatever your local supermarket is and Holdsworth should be representative of that semi-retired band of brothers, who now having found that their pension is not enough do, go back to this three-day, anti-ageing, working thing that they all do. So he would be right back where he started at the bottom, but he would know it more than anybody else of course, because he know would know where the aubergines come from, where the potatoes come from and where the bodies are buried."
[KK]
"You just never know. Stranger things have happened! I've not got a crystal ball but if someone picks up on that idea and has the finances and whereabouts to do it, I don't see why not."
How would you feel about a return to the Street itself?[KM]
"It depends really - on what size of sack they were dragging behind them and what was in it! I'm sure Reg would make a hopeless attempt to seduce half of the residents, there would be minor chat and no doubt he'd get spat on for being an old fart, which is what he always was."
[KK]
"That would be fine! Not only would I be in Manchester near my wife and children, I could go and see City more often!"
What do you think of the show now as the 50th anniversary approaches?[KM]
"It's still an excellent show, as it always was. You can't be at the top of the tree and not be good. There's only
Coronation Street
,
EastEnders
and
Emmerdale
and they are basically the three biggest shows in the UK. Corrie will always be there until the day they decide to bring down the axe and chop it - but by then we will be dead anyway!"
Would you like to have been involved in the special week of episodes coming up next month with the tram crash?[KK]
"No, because I've done my live episode. So I'm quite happy not to go through that trauma again!"
What would your advice be for the cast involved in the live episode?[KK]
"To take a deep breath and do as you've been rehearsed. They are good enough to do it, more than good enough. They can show the world what they can do."
You're currently doing We Will Rock You in the West End, Kevin - are you enjoying it?[KK]
"It's brilliant. It's a proper rock musical with a great, great story by Ben Elton and of course the music of Queen, which you can't go wrong with. It's coming into it's 10th year and it's been seen by 12 million people. It is an absolute joy! The theatre is just another medium to show-off in, another opportunity for me to show-off and sing."
Do you both still receive a lot of attention from fans?[KM]
"Oh yes! I still get called Reg, followed by fat b**tard - so yes people do remember! What surprises me that the younger generation, who can't possibly remember me in it, have been told by their parents that I'm Reg, that fat b**tard off the TV - so they too call me 'Reg, you fat b**tard', even though they haven't watched it!"
[KK]
"Absolutely. There are a whole generation who have grown up with Curly. I'm pretty much noticed wherever I go and long may it continue!"
Coronation Street: A Knights Tale
is out now.
Get the Inside Soap magazine on your iPhone or iPad