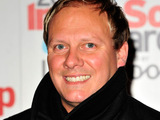 Coronation Street
's Sean Tully has been among the characters at the thick of the action this week following the devastating Joinery bar explosion and tram crash disaster on the cobbles. Fans have seen Sean taking charge at The Rovers as it gets transformed into a makeshift hospital and shelter amid the carnage on the street, and his involvement is expected to continue tonight as the soap airs a live episode to mark its 50th anniversary.
Antony Cotton
, who plays Sean, recently chatted to
DS
about Corrie's massive week.
How have you found being at the centre of such an important milestone for Corrie?
"Well, I'm a fan of Corrie, so that makes me very excited to be a part of it all. My only disappointment about us doing a live episode is that I'm not going to be sat at home watching it, because if I wasn't in it, that's what I'd be doing! But it's so exciting to be a part of it - it's such a landmark event for Corrie. It's epic, it's huge and it doesn't get any bigger."
What will be the live episode be like?
"The live pulls no punches. It's epic and massive, so that makes it all slightly terrifying as a performer - especially as I have the first line, which makes it even more terrifying! But I can't wait to do it. Corrie's 50th anniversary will be remembered forever, but especially this live episode. I'm honoured to be in it, delighted to be a part of it - and thrilled to be in the show. I think the live episode really will deliver. And for the week in general, I defy anyone to watch it and say that it wasn't very good! They're extraordinary episodes."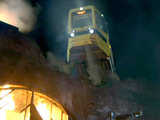 Are you enjoying working with the show's new producer Phil Collinson?
"Yes, we've got the cleverest man in the world as our boss. It's all very well having trams and death and fire, but actually, if the stories aren't strong then there's no point doing it. What's brilliant is that Phil has collected all these different elements, put them together and stuck the characters that the audience love and care about right into the middle of a disaster. It rips the street apart, but it also brings everyone together."
Are you happy with the role that Sean has taken this week?
"I love that he does what you wouldn't expect him to. In one episode leading up to this, we saw Sean say, 'Oh, I'm great in a crisis!' and everyone laughed because they thought he wouldn't be great in a crisis. But actually, Sean is brilliant in the crisis - he's taking a totally different turn than what you'd expect him to do. He's pulling the team together as The Rovers has become a makeshift hospital. I loved the line where, in all the chaos, he said, 'Get everybody brandies - and make them large ones!' It's such a
Coronation Street
line. Our writers come up with beautiful, amazing words for us to say."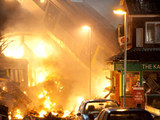 It must be good to show another side of Sean after so long in Corrie.
"Yeah, and everybody here gets to do that in some ways. If something happens that changes the course of your life - even if it's just for 12 hours - you behave in different ways. You're forced into acting differently. I get a lot of stick for Sean being a stereotype - but I actually think he's an archetype because there's no other character on television like him. Nobody else is putting a character like that on the screen now - because it's been done in every episode in Corrie. Sean's not a stereotype - if you throw a stick down Canal Street on a Saturday night, you'll find 5,000 Seans. It upsets me when people try to make out that camp isn't relevant, because it is. There's so many people who write to me because they're bullied at school for being camp. It saddens me that people are allowed to get away with that. Camp entertains, so what's wrong with being camp?"
What do you think the fans will make of this week as they look back?
"Well, I think that for the fans of the show, this is their present. They've stuck with us and cared about us for all this time. And even if you've only watched for six months, the fact that people are watching means that they want to be part of this incredible time. This is a gift to them and it's a gift to Tony Warren. Who would have thought that such a young writer could come up with something like this? Imagine the people who have been employed or had a career because of him. And imagine the amount of people who have laughed and cried with the show, because it's taken them away from their own lives for half an hour. We're a family at Corrie and the audience are part of that family."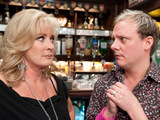 Do you still watch Corrie yourself?
"Yes, I still watch it as it happens at 7.30pm. It's like a community watching Corrie, where you can ring someone up afterwards and say, 'Did you see what Fiz said to John Stape?' I enjoy watching it with everyone else at 7.30pm and feel part of that. I can if I'm not in work - I like watching it as a viewer. When I was growing up, in our house if somebody phoned at 7.30pm, my mum would scream and say, 'Who the bleeding hell's phoning at half seven?!'"
What do you think the future holds for Corrie?
"Well, at the moment we've got a lot of questions. Who's going to find Rita and look after her? What's going to happen with Molly and the baby? Has Peter found out about Nick and Leanne? They've set up so much great stuff this week. All these things are only just beginning. They'll continue after the live episode and will go on into next year. Plus, Graeme Hawley who plays John Stape is just a genius!"
How are the rehearsals going for the live episode?
"They're going well! They're painstakingly accurate because you have to be on the right mark - you can't be in the wrong place, or then everything else will go wrong. Every mark has had to be planned - the floor is covered in marks that nobody else would be able to decipher, but we know them. I'm quite lucky with the live episode, as I haven't got masses of dialogue."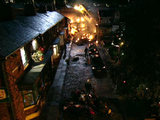 Is there anything else you can tell us about the live?
"Well, what you haven't seen yet is that the beginning of the live episode is the start of another disaster - something else happens and so it's ongoing. There's more explosions and that's how the live episode begins - with everybody out on the street as it goes up in flames!"
Do you think you could be surprised yourself by anything in the live?
"Well, I've said that if Phil Collinson suddenly tells me that Sean dies, I'll say, 'Oh no he doesn't!' [laughs] But it's all been exciting - the rehearsals have been a joy, because we never normally get to rehearse. We've just got to say the lines in the right order and try not to bump into the furniture! There's some strategic things in place in case things do go wrong. Extra scenes are being rehearsed that won't be in the show, so if something goes down, or a camera fails, or if somebody's not well, or there's a technical hitch, an extra standalone scene will be there that you can cut to for three minutes - hoping that it will get back to normal. Hopefully we won't need to use any of that!"
Finally, after 50 years of the show, how would you sum up Corrie?
"I think for Northerners, it's our voice. It's not just for Northerners as it's shown all over the world, but it's the North's voice. It's exquisite, it should be treasured, it's beautiful and it's perfectly packaged. It's clever, it's funny, it makes you laugh, it makes you cry, makes you frightened, makes you annoyed and sometimes makes you rant at the television! It did that 50 years ago, and it's still doing it today. I love this television programme - it's glorious. And this week is the gift for the people who've stuck with it for 50 years."
> Full Coverage: Coronation Street's 50th anniversary