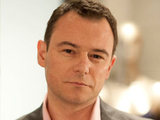 Coronation Street
embarks on one of its darkest ever storylines next week as Frank Foster attacks and rapes Carla Connor after she ends their relationship on the eve of their wedding.
Although the act of rape does not feature on screen, viewers will be left in no doubt over what Frank has done - and show bosses have promised to "tackle a very difficult subject in a sensitive and moving way" in the coming weeks.
Off screen,
Coronation Street
bosses and cast members have researched the plot with experts from the St. Mary's Sexual Assault Referral Centre in Manchester, and the characters involved have been tipped to feature in powerful scenes for some time to come.
With the storyline due to begin airing from Monday,
Digital Spy
recently caught up with
Andrew Lancel
, who plays Frank, for an in-depth chat about what's in store.
When were you first told that Frank would have this big storyline with Carla?
"I've known about this since the first meeting I had with Corrie - it was always going to be part and parcel of the storyline arc. The clues have been there over a period of time, but we've played them in a normal way and I think Frank has become quite accepted and popular.
"Because of that, I think this is going to be quite a big shock for those people who have forgotten what happened with Maria. But I've always known the A and Z of the storyline."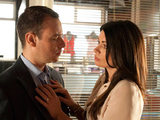 Have you embraced the chance to portray such gritty material?
"It's certainly been the most challenging storyline that I've done as a TV actor, but I've also been flattered to do it and I think that we've got a responsibility with this. It's important to remember that this is still Corrie. While Corrie does tackle issues like rape and domestic violence, it perhaps does it in a way that other dramas don't, because it's Corrie.
"It's been an absolute pleasure to be involved in this. It's been a challenge, it's been hard, it's been emotional - and it will be to watch. But I'm very keen to get this across - while it may be disturbing for people to watch some particular scenes, it's still Corrie."
We know that Alison King did a lot of research for the storyline, so were you also involved in that?
"Yes, of course - but I'm coming at it from a different point of view and a considerably different angle, so for me it's been about understanding why people do this. Frank has often been very romantic, he's been heroic, he's been charming and he's been funny - but I've always known that within him there's a dormant predator.
"It's nearly surfaced before, but this time it does surface. So obviously I wanted to understand why people do what they do. Also, this isn't a guy dragging someone into a back alley - this is a day before his wedding and hours before he was planning to marry this woman, so it's extremely shocking."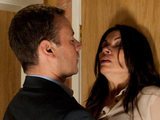 How did filming these scenes compare to the scenes we saw a few months ago where Frank tried to rape Maria?
"Well, the Maria storyline was a long time ago now, and since then Frank and Carla have become a couple - quite a well-liked couple. But we weren't foxing the audience, we were playing a story and as far as Frank was concerned, he was going to marry Carla and spend the rest of his life with her.
"So up until this point, I was playing a man who was hopelessly in love with this woman. Because of that, it felt very different to the scenes that I played with Samia.
"Also, 95% of my scenes have been with Alison King and we've worked very hard together. We go off to rehearse together, we learn lines and we speak on the phone all the time. We were very aware that we had a responsibility with this, so we worked very, very closely together. It's been a lot easier than it could have been thanks to Ali."
Does the storyline delve into why Frank is the way he is, and why he does this?
"Well, this is the thing - why would anybody do something like this? What we see is that Frank is so distraught and broken by what Carla has done by calling off the wedding, that the monster within him comes out. I've always said from day one that there are many, many sides to Frank Foster - some that are nice, and some that are not nice.
"But his true colours really come out with this storyline. This is what he is, and you can't skirt that - I certainly don't want to skirt that. At the same time, though, it's fascinating to play - there's a darkness in Frank that has been great to explore as an actor. It's hard and tough to do, but also rewarding."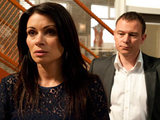 Surprisingly, Frank seems very cheery and acts completely normally soon after the attack, doesn't he?
"Yes, within minutes he's acting normally and saying things like, 'What's happened? I don't understand'. He's very, very clever - there's a twisted mind in there. He'd have Carla back at the drop of a hat, that's the bizarre thing."
What kind of impact do you want the storyline to have?
"It's a horrible thing that happens, but unfortunately it happens almost daily in this country, so I think it's going to touch a lot of nerves but it'll be fascinating to watch. The way Carla, Frank, Maria, Peter and the street all deal with it - it's classic Corrie and it's high-voltage. It's Corrie-driven and it's character-driven.
"If there's a moral message behind it, which of course there is, then that's great - but at its core it's about the people who walk down Coronation Street. It has to be, I think. I suspect that this particular storyline has been under the microscope right down to every word, so we're aware that we've got a responsibility. But we've also got a responsibility to the people who watch Corrie week in, week out."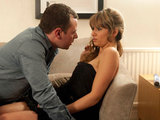 You've mentioned that Frank has seemed popular, so are you surprised that some viewers seemed to forget the Maria storyline so quickly?
"Yeah, absolutely. But we played it in a way that was very coy at the time - and that was because there was a long way to go. That was February, this is September and there's been so many episodes between then and now.
"But I think people have always known he's a baddie - the press picked up on it early on, and it's always in the papers that he's a bad boy. I don't think people realised he would be this bad, though. It's often easy to tell who the bad guys are, but with Frank, I hope there's always been a question mark there until now."
What happens to Frank after this?
"All I can say is it's not the end. It's far from over - it's far, far from over for Frank. He's a very clever man, and he can twist and manipulate people very easily it seems. It'll be interesting for people to see what happens in the days after the attack - the way Frank twists and turns and manipulates. He'll lie and be deceitful, and there'll be blood on the street."
> Read some extra bonus bits from Coronation Street star Andrew Lancel in Soap Scoop