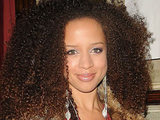 Coronation Street
's Kirsty Soames has proved to be one of the most intriguing new arrivals in soapland over the past few months as her presence at Number 9 has shaken up life for Tyrone, Tina and Tommy.
Kirsty's romance with Tyrone (Alan Halsall) has brought some happiness back to the mechanic's life in recent weeks, but the story couldn't be more different for Tina (Michelle Keegan) - who has found herself bearing the brunt of the police officer's jealousy and control issues.
Tyrone finally sees Kirsty's true colours this week but just as it looks like their relationship is over, there's a twist in store as the couple discover that they're expecting a baby together…
Here,
Natalie Gumede
- who plays Kirsty - chats to
Digital Spy
about what's ahead for her character.
After a few months at Coronation Street, how are you finding it so far?
"I'm absolutely loving it. I knew that I'd enjoy it, but I just didn't realise how much! Obviously it's a great break for me, and I've never worked with such a great set of people in all honesty. It's just brilliant to come to work every day and do the thing that you love."
Kirsty seems to have provoked a lot of discussion in the past few weeks! Are you pleased that she's making such an impact on viewers?
"I'm so pleased that people are talking about her. Obviously in the first few months, it was a slow introduction and you weren't quite sure where she was coming from or what she'd turn out to be. At first, she just seemed like the new girl on the street with a slight attitude problem. Now it's getting slightly more sinister and I'm really pleased that it's making people react quite strongly - but hopefully for the right reasons!"
As Kirsty is such a complex character, how do you describe her to people?
"I've heard people say that she's psychotic, but I prefer to think that she's just troubled or perhaps slightly damaged. We're yet to find out why, but obviously there's been something in her past which has made her very jealous and have quite a few control issues. So I'm looking forward to playing that out and discovering why she is the way she is."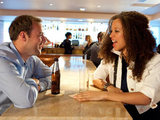 How genuine are her feelings for Tyrone?
"That's the thing - I think Kirsty is extremely genuine when it comes to her feelings for Tyrone. She's absolutely in love with him and I don't think there's any hidden agenda on that front. From the first time they met, they were very much kindred spirits - but obviously problems are creeping in now with her personality. Kirsty's problem is with everyone else around Tyrone, but how she feels about him is definitely the real thing."
A lot of people are expecting Kirsty to be the next big villain for Corrie. Could that be the case?
"I'm not sure about a villain, because I don't know what's coming up in all honesty. But there's definitely a dark side to her. It depends on how much they play with that - but I'm yet to find out myself."
We've seen Kirsty trying to cause trouble for Tina on a few occasions now. What's going through her mind when she's doing all these crazy things?
"Well, in a way, when the two of them first came up against each other, they were quite similar - and obviously Tina's a very feisty and spunky girl. So I think that Tina brought some of the trouble on herself at first. But as far as Kirsty's concerned, she just sees Tina as a major threat. Obviously Tina is beautiful and she's very pally with Tyrone. Kirsty is very threatened by that - and she doesn't want anyone near Tyrone who she sees as a threat."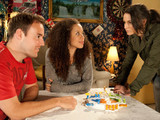 Kirsty eventually confesses to Tina and warns that there could be even worse trouble to come if she's not careful. Does she mean it?
"Well, at one point, Kirsty was genuinely willing to call a truce with Tina and make a bit of an effort. But when she threatens her, it's because she's been goaded by Tina - so it could possibly be an empty threat. There's a lot of hot air with Kirsty, as there is with Tina. They both goad each other to the next level, really!"
How does Kirsty feel when she discovers that she's pregnant?
"At first, Kirsty is very shocked. I'm not sure she was ready for something as huge as this to come along. But it gets her back with Tyrone and back where she wants to be. Kirsty will be very happy that she's got Tyrone now. Whatever happens in the future, he's the father of her child - so she's got him right where she wants him. I think she's got the potential to be a great mum, but there are emotional issues that she's got to deal with first and they're going to be quite a challenge."
Some viewers will probably suspect that Kirsty has tried to trap Tyrone with the pregnancy or that he's not the father. Can she be trusted?
"As far as I'm aware and as far I'm concerned, Kirsty's pregnancy wasn't planned and she wasn't trying to trap him at all. That's how I'm portraying it when I'm playing Kirsty, anyway. In the storyline, her love for Tyrone is genuine and she says, many times over, that cheating on him is something that she'd never do. I believe that - I'd definitely say that it's his baby."
Will Kirsty try to play things a bit differently with Tina and Tommy after this?
"I think she will on the surface for Tyrone's sake - she'll do her best to show willing and be civil. But if she doesn't get the response that she likes back, then I don't think she'll be able to keep that façade up for very long!"
Could you see Kirsty and Tina becoming friends eventually?
"I think there's the potential for that. They are very similar in some ways - they're both very strong, confident and spunky women. Maybe they could be partners in crime in the future! But at the same time, I think they've got a lot to get through first. I think Kirsty will always see Tina as a threat, unless she's not in the immediate vicinity. We'll have to wait and see what's written for us!"
How have you found working with Alan Halsall?
"As a new girl coming onto the street, I honestly don't think I could have been paired with a better person. He's a very funny guy and he's the cast joker, but more importantly he's very welcoming and he was so patient with me in my first few weeks when I was getting used to everything. He's fantastic."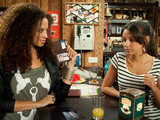 How about Michelle?
"Michelle is really funny as well - she's very dry! I love the funny looks that she gives in the performance, which are great to play off. Michelle is a fantastic actress to bounce off and she gives me a lot to work with as a rivalry on screen. I'm really lucky to have both Alan and Michelle to work with."
You've also had some scenes with Barbara Knox, who plays Rita…
"Yeah, I kind of felt like I was being inaugurated by the Queen! She's a real legend and she's so professional. Barbara is fantastic and she's so subtle in her performance. It's fantastic to work with somebody who's had that kind of experience."
Do you think Kirsty has a long future on the cobbles or will she be a character who comes in, causes chaos and then leaves?
"I don't know - I think they've got the potential to do either at the moment. I could just be a vehicle for Tyrone - as I'm definitely here to upset Tyrone and Tina's worlds. But what can happen is that they see a redeeming feature in the character and make it more long-term. It's really up to the writers and the producers!"
> Read all the latest Coronation Street spoilers and newsCoronation Street airs on Monday, Thursday and Friday on ITV1.