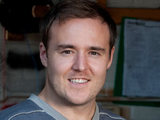 Coronation Street
's Tyrone Dobbs lays his heart on the line next week as he proposes to his pregnant girlfriend Kirsty Soames.
Tyrone's relationship dramas continue in upcoming episodes as his friends Tina (Michelle Keegan) and Tommy (Chris Fountain) wrongly suspect that twisted Kirsty is cheating on him. When Kirsty is confronted by Tyrone, she's appalled by the lack of trust between them and ends their relationship.
Desperate to win Kirsty back, Tyrone tries to show his commitment to her by popping the question. But given Kirsty's unstable antics, is he making a big mistake?
Alan Halsall
, who plays Tyrone, recently had a chat with
Digital Spy
about the storyline.
It's another busy time for you on Corrie at the moment!
"Absolutely, it's been fantastic. I've had a great couple of years with storylines and I've been quite busy, so to get another one is really exciting. The new story of Tyrone's relationship with Kirsty provides a lot of opportunity and could go in various directions, so it's brilliant.
"Natalie Gumede, who plays Kirsty, just fitted in straight away when she joined the show. She's a really nice, placid girl and she's good fun to be around, so I've really enjoyed working with her."
There's some tough times ahead for Tyrone next week when he thinks that Kirsty is cheating on him. How does it all play out?
"What happens is that Tommy and Tina get the wrong end of the stick when it comes to Kirsty. They think that she's cheating on Tyrone, as she's been acting a bit strangely and has been seen with another man. When they tell Tyrone, he doesn't really want to believe it because he's really happy with Kirsty. But you'll see that it puts a doubt in Tyrone's mind, especially after everything that happened with Molly.
"For that reason, Tyrone decides that he has to confront Kirsty. It's mainly doubt and insecurity from previous relationships which is putting Tyrone off. In the end, though, it turns out that he's put his foot in it, as Kirsty isn't cheating on him at all."
Does Tyrone feel guilty afterwards?
"He does, especially as it turns out that Kirsty was planning to do something quite romantic for him for Valentine's Day. That's why she was being a bit secretive - plus, the man she was spotted with was her cousin! So I think Tyrone is feeling slightly guilty, but he's also quite annoyed because Tommy and Tina have stirred things."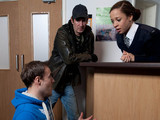 Tyrone later ends up proposing to Kirsty. Is it just because he feels guilty?
"I think, in Tyrone's mind, this would have been the next logical step in their relationship anyway. It's what Tyrone wants - he wants to be a married man, have a baby and enjoy a happy family life. But because Kirsty leaves him due to the lack of trust in their relationship, Tyrone wants to pull off a grand gesture to win her back.
"So even though it seems that Tyrone is rushing into this, he's not - as he already saw this as part of their future anyway. In the end, Tyrone decides that there's no other option than to get down on one knee!"
Is it a romantic proposal?
"Not really, as it's so desperate! He hasn't even bought an engagement ring beforehand. Tyrone just wants everything to be normal between him and Kirsty again, so he goes to the police station to see her. She's dealing with an unruly drunk at the time, so it's not the most romantic of proposals! But I do think that Tyrone really means it."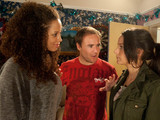 Last month, Tyrone had some doubts about his relationship with Kirsty. Is there a part of him that's still uneasy?
"I think, at the moment, it's at the back of Tyrone's mind. The main thing is that Tyrone is just so desperate to be happy again. The audience watching at home get to see Kirsty and what she's like with Tina and Tommy, but Tyrone doesn't really see that. 95% of Tyrone's time with Kirsty is fantastic and he's really happy.
"I think when Tyrone found out about Kirsty and how she'd been treating Tina, he was more hurt about the fact that she'd been lying to him, rather than what she'd actually done. He was worried when he realised that Kirsty could lie like that to his face.
"But Tyrone is in love with Kirsty, and she's in love with him too. It's quite a genuine relationship, but one that has already had some problems. Tyrone thinks that this proposal could hopefully make some of those problems go away."
Will Tyrone forgive Tommy and Tina for their meddling?
"In an ideal world, he'd like to get back on good terms with them. We know that Tyrone is a very forgiving guy, as we've seen numerous times in the past. I think he'll want to forgive and forget, and build some bridges."
Is there more to come from Kirsty's nasty side?
"There is a nasty side there, and I'm sure we'll see more of it. But that's up to the writers, and I think there's a lot of scope for them when it comes to the character of Kirsty. It could go in any direction, so I'm looking forward to it."
Have you been getting much public reaction over this storyline?
"All the time! The public response to Tyrone and Kirsty's relationship has actually been brilliant. I've been getting a response everywhere I go, with people coming up and saying, 'Watch out for Kirsty - she's a wrong'un!' I think that's great, as it shows that Natalie is doing her job and the character is getting a reaction. That's what we want!"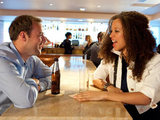 Do you still enjoy Corrie as much as you did when you started 13 years ago?
"I do! Sometimes I'll just be sitting there at work and some of the Corrie legends will be walking past, and I do have to pinch myself - even now, after so many years. It can be quite surreal sometimes, but I'm immensely proud to be a little part of
Coronation Street
."
Why has Tyrone proved so popular with fans?
"I think it's because people can relate to him. That seems to be true for all sorts of people - there's ladies who want to mother him, young lads seem to get him too, while other people will know somebody like Tyrone. I've always had a great response in the street from many different people."
After so long working with them, is it strange not to have Bill Tarmey and Liz Dawn on set these days?
"It is, to be honest. I had so many fantastic years with Bill and Liz, so it's hard not to have them here now, but I still see them outside of work. I actually see Bill every other week, and we'll go for a few drinks."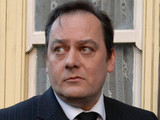 Are you excited over Nigel Pivaro's upcoming return as Terry Duckworth?
"Well, I've actually only recently found out about this, when Chris Fountain told me! Myself and Nigel have had some good scenes in the past, and his return will bring a whole new dimension for Chris's character too. I'm looking forward to it.
"I'm not sure yet whether anything will go on between Tyrone and Terry, but I think it's likely that something will. The last time Tyrone spoke to Terry, he told him not to turn up to Jack's funeral. So there's got to be a bit of bad blood there…"
Corrie's had a great start to the year by winning the National Television Award and Broadcast prizes…
"That's brilliant. It's always exciting to be working here, but all of the 50th anniversary storylines and the tram crash were extra special, and I think these awards are on the back of the past 18 months. For me, the show has been fantastic for a long time, but especially recently. I think the awards were well-deserved and I'm thrilled for the team here."
> Read more Coronation Street spoilers and newsCoronation Street airs on Mondays, Thursdays and Fridays on ITV1.