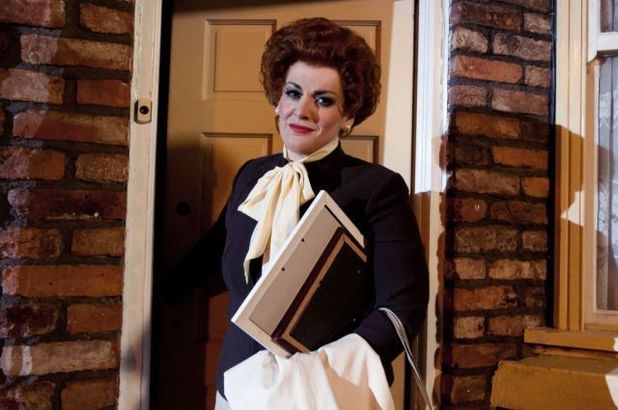 West End star
Jodie Prenger
is currently preparing to play a soap icon after being cast as Elsie Tanner in
Coronation Street
's upcoming musical
Street of Dreams
.
As officially confirmed today (March 21), Prenger will portray the 1980s version of Elsie when
Street of Dreams
has its world premiere in Manchester in May, while Kym Marsh will explore Elsie's earlier years on the cobbles.
Digital Spy
recently caught up with Jodie to hear about the role and what fans can expect from
Street of Dreams
.
How do you feel about taking on the role of Elsie Tanner?
"Excited is not the word! I don't think there's a word created in the English dictionary to describe it. Elsie is just a brilliant character, isn't she? She's one of those characters who sits at the kitchen table and puts the world to rights. And if you were in Timbuktu and you wanted a lift, she'd be there to pick you up."
Why do you think Elsie is so popular?
"She's just a real woman, isn't she? She definitely went through it with men, like most of us girls - she had her blinkers on! But she dusted herself off and got on with it. You have to love that in a character."
How did the part come about?
"Very kindly and unbelievably, they approached me about doing it. It was great to go in there and sing some great songs for the play's composer Trisha Ward, who'd just written some beautiful music.
"It's a brilliant thing to be involved in, as I always used to call my nan Elsie Tanner - she was the spitting image. When I dress up as Elsie, I look a lot like my nan. Elsie has always been such a well-loved character for our family, so I already have a really weird connection to her."
Have you always been a big Corrie fan?
"Oh, I say it should be written in the Northern bible - 'Thou shalt always watch Corrie' and 'Thou shalt always turn the big light off so you don't get a glare when watching it'!"
Are you nervous about taking on such an iconic role?
"I always get nervous! I'm sure my hands will be shaking beforehand. But it's funny - you get so nervous before you go on and perform, but when you're out there, you just have the time of your life."
Have you been watching any old episodes to prepare for the part?
"Yes, YouTube is my best friend at the moment! I want to stay true to the Elsie that people knew, because Pat Phoenix got it right straight off the bat. So I'll not be doing anything different - definitely not."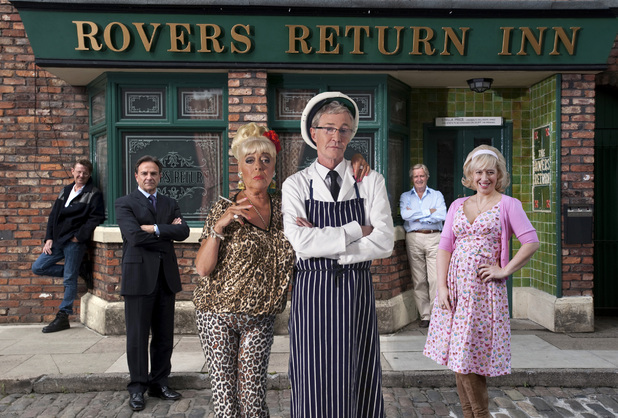 What can we expect from the show itself?
"It's like a concert, so there's loads of songs and all of the most memorable characters are involved. We've got Bill Roache, Julie Goodyear, Brian Capron and Kevin Kennedy in the cast. They're such lovely, lovely people. I can't wait to say I've actually worked with them - I'm so proud.
"It's all interlinked, so you'll see what Elsie went through during her time on
Coronation Street
, and Trish has been brilliant at totally capturing all that - it's captivating."
It must be tricky to fit so many years of Corrie into one show!
"Well, it's so clever, the way they've done it. Paul O'Grady is the narrator for the evening, so he takes the audience through the story and the way they've pieced it all together is brilliant.
"I say it's a show, but it's like a total spectacle with the way the set has been created, and there's a big orchestra. It's hard to describe and it's something that you really do have to see for yourself. But it's going to be really big. If you're doing something like Corrie, you've got to get it right - and Trisha has definitely got it right."
You're in the Coronation Street family now, so would you be interested in a role on the main show?
"I'd love it. I'm jinxing myself, but I really would love it. But I don't know whether I'd be one of those starstruck people, too busy watching everyone else rather than just doing the lines!"
It's nearly four years since you won I'd Do Anything. Does it feel like a long time ago now?
"It feels like forever ago, but then in other ways it only feels like yesterday - it's bizarre. Never in a month of Sundays would I have thought that it would lead to the stuff that I'm doing now. I'm just so chuffed, I really am.
"People still talk to me about the show, and I love it when they do. It's great when people come to the stage door and have a good natter - that's how I've always been, and how I always will be.
"Shows like
I'd Do Anything
are fantastic for theatre. I can't tell you how many people used to say at the stage door that the show had brought them to the theatre for the first time, and they were going to come and book again. It's brilliant."
> Coronation Street musical is a ten-star show, says Julie Goodyear> Coronation Street musical is brilliant, says Paul O'Grady> Coronation Street musical to tour in May> Coronation Street musical casts Kym Marsh and Jodie Prenger as Elsie Tanner> Read more Coronation Street news and spoilersStreet of Dreams has its world premiere dates in Manchester on May 9 and May 10. The show later tours to Dublin, Belfast and Newcastle.