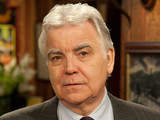 Coronation Street
fans see
Bill Kenwright
back on the cobbles next week as he reprises his role as Gordon Clegg for a short stint.
Gordon returns to the street with sad news to announce, arriving at The Rovers to tell the locals that his much-loved mum Betty Williams passed away during the night. Everyone at the pub is deeply saddened by their loss, realising this marks the end of an era.
In real life, actress Betty Driver - who played Betty for 42 years -
died in October 2011 following a period of ill health
. Kenwright was approached to make his
Coronation Street
return after attending Driver's funeral last year.
Here, Bill chats about revisiting the part of Gordon and what viewers can expect from next week's emotional episodes.
How do you feel about bringing Betty's son Gordon back to Coronation Street?
"To be honest with you, the whole experience has been a privilege from first minute to last. I have worked with many, many companies and productions over the last 42 years, but I have seldom met a happier, more welcoming group of people than I have at
Coronation Street
.
"The whole thing apart from the storyline, which is horrible because of the very sad circumstances behind it, has been an extraordinary experience for me."
Are you a regular viewer of the show?
"When I was in the show originally, I never really had the time to watch
Coronation Street
, and then about a year and a half ago, my best mate said to me, 'Look, if you want to watch great telly, just look at the tram crash'. I watched the tram crash episodes and I have been hooked ever since - I have never missed one single episode since then. I watch them late at night when I get back from work.
"So there is two sides to Gordon coming back to
Coronation Street
for me. Firstly, I'm coming back into it and that feels good, and secondly, I'm just the biggest fan of
Coronation Street
, and neither of them gets in the way of the other."
What was it like to be reunited with the cast?
"I still revere them - all of them. They are such good actors, they're all so good. It was a privilege on my first day of filming being reintroduced to all those people that were here all those years ago, such as Barbara Knox and Eileen Derbyshire."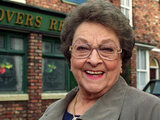 Did you have any hesitation about reprising the role of Gordon?
"No, I did not have to think about it for a moment. Betty Driver left strict instructions for her funeral, and Betty Turpin has done the same. Among the instructions for Betty Driver's funeral, she wanted 'her lad' to deliver the eulogy, and I did that at her service.
"It was around the time of Betty Driver's funeral that the
Coronation Street
production people asked me to come back - to be part of Betty Turpin's on-screen send-off. To be honest with you, the only problem for me was time, because it's a big, big deal for me to carve out the amount of time it's taken. But it's just been smashing - I'm proud to be part of it."
How does it feel to be back in an acting role?
"I hope I'm alright, that's all I can say. There is a certain rhythm when filming
Coronation Street
, and I just hope I have fitted into that style. They have been very supportive of me."
How does Gordon feel about his mother passing away?
"He's devastated, absolutely devastated. The lines are really well written, and I found it very difficult to say some of those lines - you'll probably see when it comes on screen. My own mum is still alive and staying with me at the moment - she loves Corrie and she loves Betty.
"It has been upsetting in a lot of ways. I mean, I'm not acting the grief - it's hard to say the lines because she was a part of my life, a big part."
Gordon initially plans to have Betty buried in London but then changes his mind, doesn't he?
"Yes, obviously Emily and Rita try to change his mind, but then he is just bowled over by the love of Betty's friends. Gordon has decided to bury her in London so he can be close to her, but he sort of sees the selfishness of that when he sees the love that her friends have for her. She would have wanted to be buried in Weatherfield - that is where Betty called home."
Gordon gives Betty's hot pot recipe to Sean - is that one of her last wishes?
"Yes, she's left some letters - one of which he has to read out to all her friends, and one is private for Sean - of course he is elated."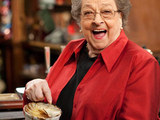 We also discover that Betty is hiding a secret to do with The Rovers, don't we?
"Yes, Gordon doesn't know the secret himself until it's presented to him. It presents Gordon with a dilemma which could affect the future of his life. The storyline is great and I have always said to the
Coronation Street
production team that if there was a storyline about my mum Betty, I would be there for her."
Do you feel that Betty's send-off is a fitting tribute to Betty Driver?
"Do you know what, shall I tell you something, it will be impossible to give her a fitting tribute, because Betty Driver does not do death. She isn't dead to me - she transcends all that. But the producers have chosen a way of covering her passing on screen that doesn't include a big funeral.
"The scenes do include some really loving moments at The Rovers, where people reminisce and remember her life. I think that's what she would have wanted. I think Betty Driver would be smiling down up there now."
> Read more Coronation Street news and spoilersCoronation Street airs Mondays, Thursdays and Fridays on ITV1.