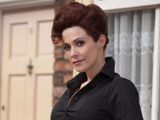 Kym Marsh
delves into
Coronation Street
history next month as she takes on the role of Elsie Tanner in the soap's musical project
Street of Dreams
.
The actress and singer, who plays Michelle Connor on the main show, makes her debut as Elsie when
Street of Dreams
has its world premiere in Manchester on May 9.
As announced a few weeks ago, Marsh will be exploring Elsie's journey through the 1960s era, while West End star Jodie Prenger is to play the older version of Elsie.
Digital Spy
recently caught up with Kym to hear about
Street of Dreams
and what could lie ahead for Michelle.
> Jodie Prenger interview: 'Corrie musical role is so exciting'> Corrie's Katy Cavanagh talks musical, Julie and more - interviewHow did you first get involved in Street of Dreams?
"I knew that something was in the works for a good couple of years, because I was involved in the album
Rogues, Angels, Heroes and Fools
, which the musical's composer Trisha Ward brought out two years ago. I sang the part of Elsie Tanner on the album so I knew that something was in the offing back then, but whether it would officially happen was another matter.
"A few months back, I received a phone call from
Coronation Street
's executive producer Kieran Roberts, explaining that this was going ahead and asking whether I'd be interested in being on board. Of course I jumped at the opportunity, because it's such a fantastic project to be involved in - especially playing the part of Elsie."
Is there any pressure with taking on such an iconic role?
"There is a bit of pressure, but let's not forget that this is a very different Elsie, because you're seeing her walking down the street singing! So in that sense it's a different thing altogether, but I certainly will have to bring some of her mannerisms into the performance - trying to look and act like her throughout the songs. Hopefully I'll be able to do that successfully - I'm watching lots of YouTube footage at the moment."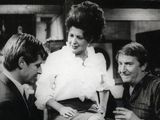 Why do you think the character of Elsie is so memorable?
"Elsie was a tough woman who didn't take any messing, but there was also a more vulnerable side to her where you saw that she did hurt.
Coronation Street
in my opinion is based on strong, feisty women and downtrodden men - that's what the show has always been about.
"Pat Phoenix brought Elsie to life and the character was exactly that - a strong, feisty woman. Everybody loves that about
Coronation Street
and they loved it about Elsie. She brought a lot of strength and a lot of comedy to the cobbles - there was a lot of laughter and tears where Elsie was concerned."
Can you tell us about the songs you'll be singing in the production?
"I'm going to be singing Elsie's song 'I Know How It Feels', and I'll also be involved in a number called 'Them Barlows', which will feature Elsie and Dennis Tanner."
How does singing musical numbers compare to your pop background?
"It's completely different! You have to act throughout the singing, so you have to portray how the character is feeling while also concentrating on the vocals. Plus, I'll be singing with a Manchester accent. Normally when you sing, the accent is gone - but this is done in true Manchester style!"
Jodie Prenger is playing the older version of Elsie. How are you getting along with her?
"We've actually met for the first time today, and I was really excited to hear that she'd be involved. I went to see Jodie in
Oliver
and thought she was absolutely brilliant in it. She seems like a lovely person and she has an amazing voice, so it's going to be fun! I'm sure she's looking forward to it as much as I am."
Are you looking forward to working alongside so many Corrie icons?
"I'm very excited about it. I already knew Kev Kennedy, as I've met him on several occasions before this. Brian Capron was obviously the ultimate Street psycho, so it's going to be great. We all get on very, very well. There's going to be a buzz, and I'm sure when we're in Dublin we might have a bit of Guinness together!"
How does the musical affect your usual Coronation Street filming?
"I'm still going to be filming the main show. I'm probably not going to be able to do all of the dates, but I'm confirmed for Manchester and Dublin. Kieran is working very closely with Trisha to work out how much I can do, because obviously my main job is
Coronation Street
and that will have to come first. Obviously I've got three children as well, so I'll be trying to juggle everything!"
Can you give us any gossip on what's coming up for Michelle on the main show?
"It's difficult because I hear a lot of rumours, and whether or not they're true, I don't know! People have been asking me whether Ryan is coming back, because that's been one of the rumours recently.
"I really have no idea at this stage, but I'd love Ryan to come back. I think it'd be great to bring back that dynamic and maybe see how he's changed. I'm sure
Digital Spy
will know anyway, because you always have all the spoilers out!"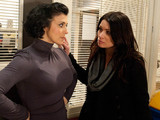 Are you enjoying the Michelle and Carla dynamic we've seen recently?
"I'm really enjoying it. Myself and Alison King have a lot of fun working together - we always have. When we first went into the show, our characters were always feuding and that worked, but it works even better now that they're allies and working together at the factory.
"We called ourselves the 'black widows' the other day - Michelle's always really bad where love is concerned, while Carla's men are always dying on her! Hopefully their dynamic will continue."
Finally, was there any truth in the recent rumours about your fiancé Jamie Lomas joining Coronation Street as Carla's brother?
"All I can say is that Jamie was one of several people that
Coronation Street
wanted to look at for the part. Jamie is very busy with other things at the moment, so whether it would be right for him and right for them is still not clear, so we'll see."
> Coronation Street musical casts Kym Marsh as Elsie Tanner> Coronation Street musical to tour in May> Coronation Street musical signs up X Factor winner Joe McElderry> Read more Coronation Street news and spoilersStreet of Dreams has its world premiere dates in Manchester on May 9 and May 10. The show later tours to Dublin, Belfast and Newcastle.