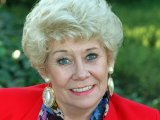 Former
Coronation Street
star
Liz Dawn
has confirmed that her decision to quit the soap saved her life.
The 69-year-old actress made her final appearance as Vera Duckworth one year ago after deciding to leave for health reasons.
Dawn was diagnosed with the lung disease emphysema seven years ago. In her final months with the soap, playing Vera became such a struggle that she suffered from panic attacks at work.
"Leaving the show really did save my life. It's removed a lot of stress from me," Dawn explained in an interview with
The Sun
. "If I was due in at work, I'd get up in the morning and then start to panic while I was getting dressed.
"I'd even have panic attacks at work. I'd walk off set and sit in my dressing room and just gasp. It was terrifying - you can't get your breath and when you're breathless to start with that's an awful feeling. Just being able to potter about and relax has made life easier."
She added: "I've been on four cruises this last year, which isn't bad is it? I've also been on holiday to Spain six times. If I get a cold or chest infection it's bad news, so I've got to look after myself and the sea air is good for me."
Dawn also revealed that she is still a huge fan of the Weatherfield soap and believes it is going from "strength to strength".