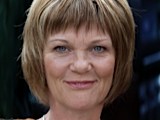 Former
Coronation Street
actress
Ali Briggs
is to make a return to the soap.
Briggs played the role of Emily Bishop's (Eileen Derbyshire) deaf niece Freda in 2005.
Freda was last seen leaving her aunt's upset after housemate Norris Cole (Malcolm Hebden) became annoyed by the attention she was receiving from Emily.
Her return will also signal the arrival of Freda's fiancé.
A source told
The Mirror
: "Norris struggled to deal with her deafness and this led to some great comedy scenes at Norris's expense."
They added: "Freda was cast in the mould of many great Corrie women, she was funny, nosy, and a smart woman who just happened to be hearing-impaired. We hope to carry on where we left off with her."
In December 2005,
Coronation Street
and Briggs - who is also deaf in real life - won a Royal Association for Disability and Rehabilitation (RADAR) People of the Year award for the "best portrayal of the lives and viewpoints of disabled people on television" for the character of Freda, who was the brainchild of Corrie writer Debbie Oates.
She will reappear on screen in late July or early August.