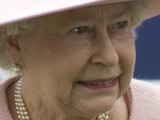 The Queen will reportedly be invited to make a special appearance on
Coronation Street
.
According to the
Daily Star Sunday
, the head of the royal household will be asked to feature on an episode during the soap's 50th anniversary year in 2010.
The newspaper also claimed that the Queen is expected to accept the invitation.
A source from the show said all the stops would be pulled out if the royal did agree to travel to Manchester.
"They will literally red-carpet the M6 for the Queen's special guest appearance.
"We had Prince Charles for the 40th, which was great, but the feeling is that for the 50th we had to top even him - and the only person capable of doing that is the Queen herself.
"Camilla is a big fan of the show and hopefully we haven't put her nose out of place by insisting on the Queen. It's such a huge milestone that it has got to be her."
In May 1982, the Queen visited the set of the soap and spent an afternoon meeting cast and crew members.
The source stated: "It was a great day. The Street was decked out in red, white and blue bunting from end to end. It was a real party atmosphere and the effect it had on the cast was huge.
Commenting on the likelihood of the Queen agreeing to the show's latest request, the source said: "The Street sees itself as a national institution, second only to the monarchy, so why not?
"She should certainly feel at home in the Rovers, with a landlady named Liz."