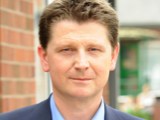 Joe McIntyre's dramatic
Coronation Street
death
is to be caused by an insurance scam that goes tragically wrong, a report has claimed today.
According to
The Sun
, Gail Platt's troubled partner, played by
Reece Dinsdale
, decides to disappear on a boating holiday in the Lake District after experiencing a debt crisis which begins to spiral out of control.
However, in a surprise twist, it is believed that the painkiller addict ends up losing his life for real when a sail pole knocks him unconscious and into freezing cold water before he can carry out his plan in full.
The plotline is expected to share similarities with the real-life case of fraudster John Darwin, who faked his own death while out canoeing before turning up alive five years later in December 2007. He and his wife Anne have since been sentenced to over six years imprisonment.
A Weatherfield source said: "It's a copycat storyline of Darwin's insurance scam. Corrie bosses have decided that Joe will meet a watery end. He decides to fake his own death to avoid his crippling debt problems and leave wife Gail with the proceeds from his life insurance."
It is thought that Joe will be seen resorting to the desperate measure in February after debt collectors threaten to harm his daughter Tina (Michelle Keegan) unless he pays off what he owes.
Joe first
arrived
on the cobbles in May 2008 and soon became romantically involved with unlucky-in-love Gail (Helen Worth). Dinsdale
announced
his decision to quit the role in June this year.